Puff pastry fish pie recipe with photo step by step and video
Step 1: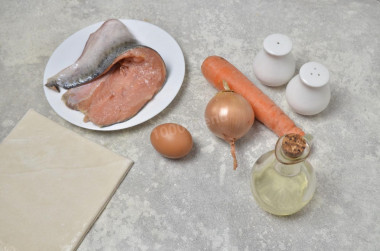 How to make puff pastry fish pie? Prepare food. You can take the dough both ready-made and made by yourself. Thaw the frozen food first by transferring it from the freezer to the bottom shelf of the refrigerator. I baked a pie with pink salmon fillet, other fish are also suitable – trout, salmon, cod, catfish. The recipe is for two pies (from two sheets of dough). I cooked one.
Step 2: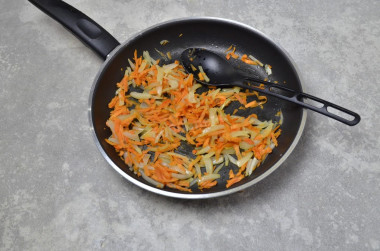 Wash and clean vegetables. Cut the onion into thin feathers, grate the carrots on a coarse grater. Heat vegetable oil for frying in a frying pan. Put vegetables on it. Saute them, stirring occasionally, over low heat until soft, about 5 minutes. Then cool down the roast.
Step 3: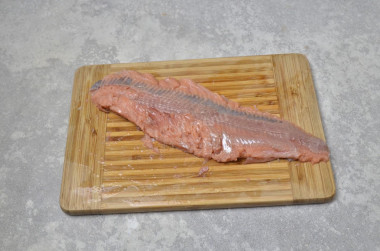 Wash the fillet and pat dry. Remove the skin from it, carefully cutting it with a sharp knife. It will be more convenient to do this with slightly frozen fish.
Step 4: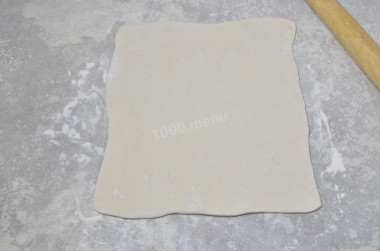 Roll out the defrosted dough on the table into a rectangular layer larger than the size of the fillet. Make the thickness about 5mm.
Step 5: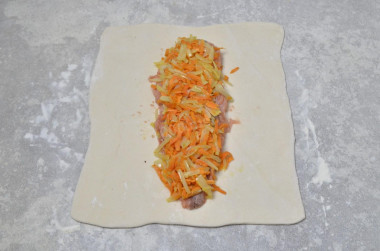 Put the fish fillet in the middle of the dough. Salt and season it with spices. I used ground black pepper. Put the fried vegetables on the fillet. Also salt them.
Step 6: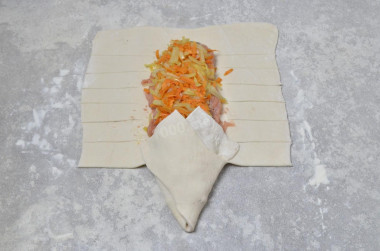 Cut the dough on the sides into strips, leaving the top and bottom wide. Wrap the fillet from the tail in two wide strips, forming the head.
Step 7:
Place thin strips one on top of the other, wrapping the fillet in the middle.
Step 8: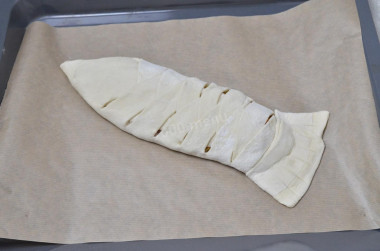 Form a tail from the bottom strip, also laying one on top of the other. Make stripes on the tail. Carefully transfer the cake to a baking sheet lined with parchment.
Step 9: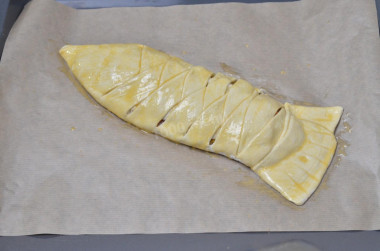 Beat the yolk with a fork, you can add a little water or milk to it – then it will be easier for them to work. Brush the top of the pastry with egg yolk using a pastry brush.
Step 10: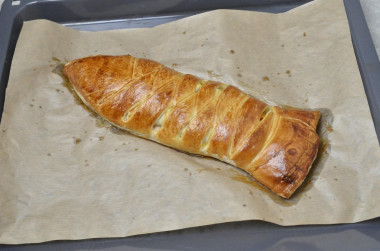 Bake the cake in an oven preheated to 180°C for 30-40 minutes. The exact time will depend on your oven and the size of the cake. Focus on the appearance – the cake should be golden. Remove the finished puff pastry with red fish from the oven, cool slightly and serve.
Step 11: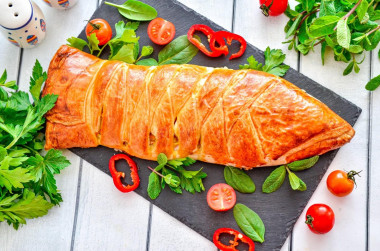 Bon appetit!
#Puff #pastry #fish #pie #recipe #photo #step #step #video