Pumpkin jam with orange and lemon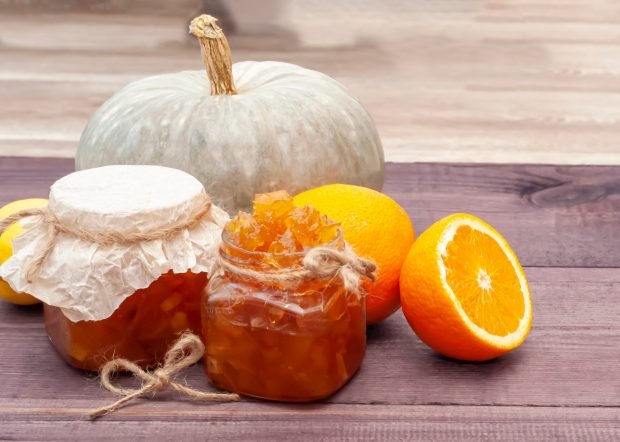 Pumpkin jam with citrus notes is beautiful, bright and very tasty. In the finished delicacy, the taste of pumpkin is not felt at all. If you have a small pumpkin lying around in your bins and you know how to use it, make this unusual jam.
Step by step cooking recipe
Peel the pumpkin from the skin and seeds, cut the flesh into small cubes. I advise you to use a pumpkin with bright orange flesh – then the jam will turn out to be a beautiful amber color.
Rinse oranges and lemons and finely chop with the peel. Remove the bones.
Place the pumpkin and citrus fruits in a cooking pot, pour the mass with sugar, mix and leave for several hours (possibly overnight) to dissolve the sugar and form juice.
When the sugar dissolves, stir the workpiece and bring to a boil over low heat. Cook the jam, stirring occasionally, over low heat until cooked and the desired consistency (the process may take 1 to 2 hours).
Pour hot jam into sterile jars and roll up. Store the workpiece in a cool, dark place.
#Pumpkin #jam #orange #lemon