quick and easy recipes from appetizers to desserts
Organizing a Christmas lunch with our easy recipes has never been easier. Here are the ideal proposals from appetizers to desserts.
Christmas lunch (but also dinner) is one of those anniversaries that can send even the more experienced cooks. That's why we thought we'd guide you in preparing Christmas lunch with quick and easy recipes. From appetizer to desserteffortlessly and with just a few moves, you can make your guests happy without the fear of making a mistake.
The secret? As always a little organization but also the right choice of recipes. The ideal would be to try them all first, at least once, so as to know exactly how much time you need to prepare them, vice versa rely on our indications. Ready to discover our quick recipes for Christmas?
Salty Christmas log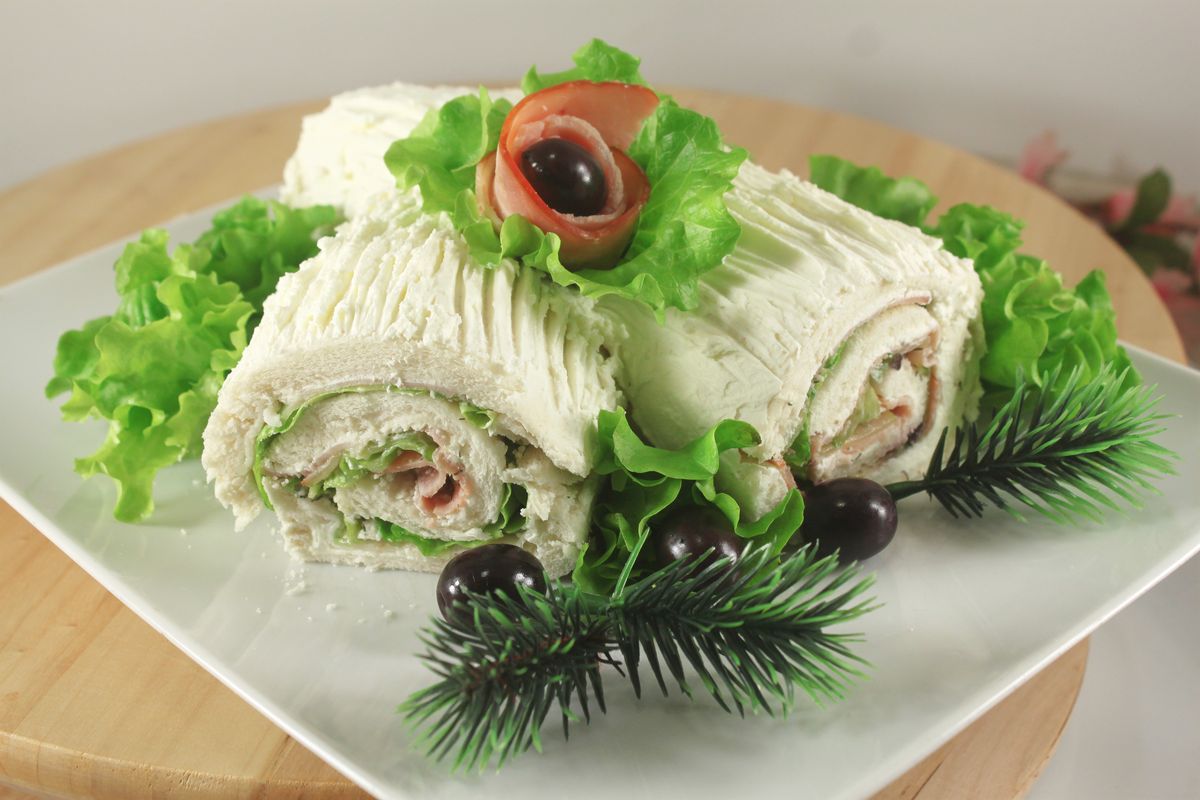 To start your Christmas lunch in the best possible way, choose the salty log. Yes you can prepare in advanceor (of a day) and refrigerate until shortly before serving. This way, on Christmas morning, you can enjoy your guests and the festive atmosphere with one thought less.
Ingredients for 8 people:
3 slices of white bread for sandwiches
2 tablespoons of mayonnaise
100 g of cooked ham
300 g capricious salad
4 lettuce leaves
300g in Philadelphia
First, spread out three o'clock on a sheet of cling film slices of breadoverlapping them slightly. Flatten them with a rolling pin and spread over the entire surface Mayo. Cover with the prosciutto then distribute thecapricious salad before and the leaves of lettuce then. Roll up well with the help of the cling film, close like a candy and leave in the fridge for 30 minutes. Then cut diagonally about a third of the trunk and lay it on its side, so as to form the branch. Cover with the philadelphiacreate the characteristic streaks of the trunk with a fork and let it rest in the refrigerator until it is time to serve it.
Christmas Tree Of Puff Pastry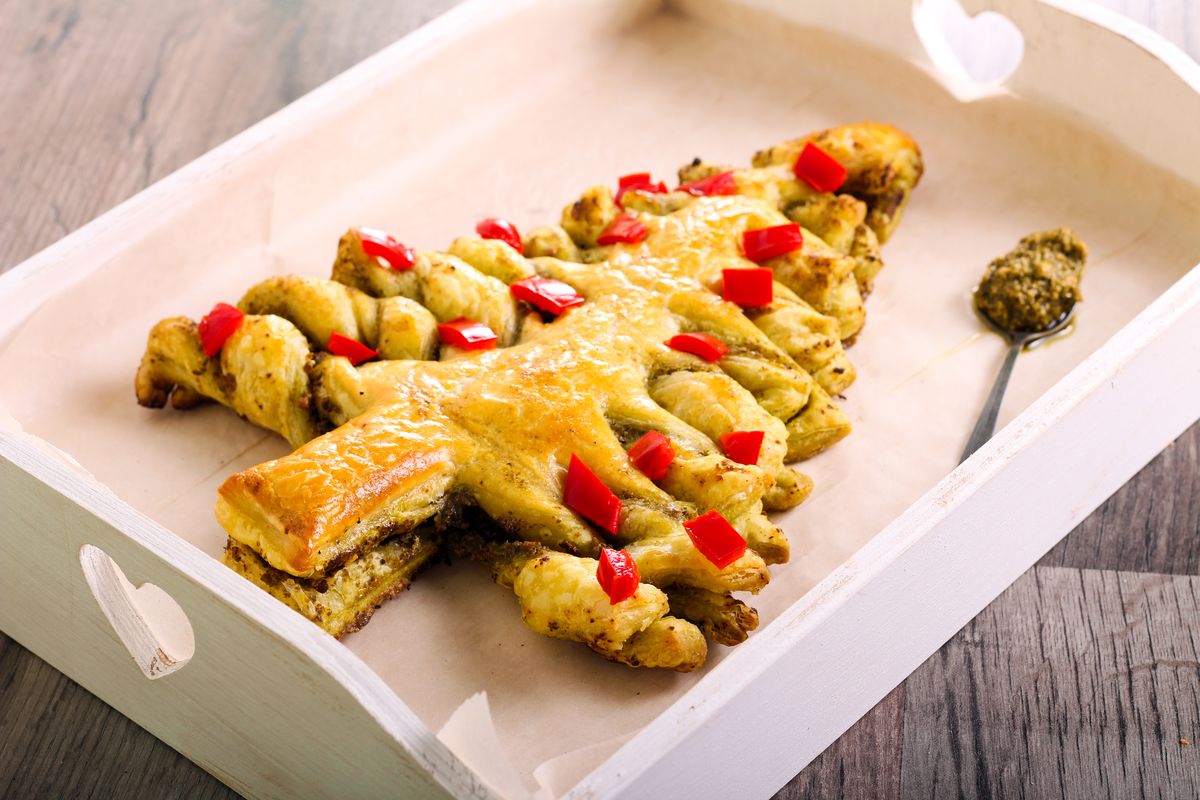 A roll of puff pastry saves your life, always keep that in mind. It is versatile, crunchy and tasty and allows you to make endless recipes like the puff pastry Christmas tree, one of the simplest recipes for Christmas. We offer you a delicious way to stuff it, but know that you can use whatever you like best.
Ingredients for 8 people:
2 rolls of rectangular puff pastry
200 g of cooked ham
100 g of cheese
1 egg
pepe q.b.
Unroll the first sheet and draw the christmas tree shape removing two side triangles and creating the rectangle of the trunk. Stuff with salami and cheese into small pieces and cover it with the second sheet which you will then have to cut the same size as the first (in the shape of a Christmas tree. Then make horizontal cuts in the sheet to form the branches and twist them on themselves in so that we can see the filling. Brush everything with theegg and cook the tree a 180°C for 20 minutes then decorate with small pieces of pepper.
Salmon lasagne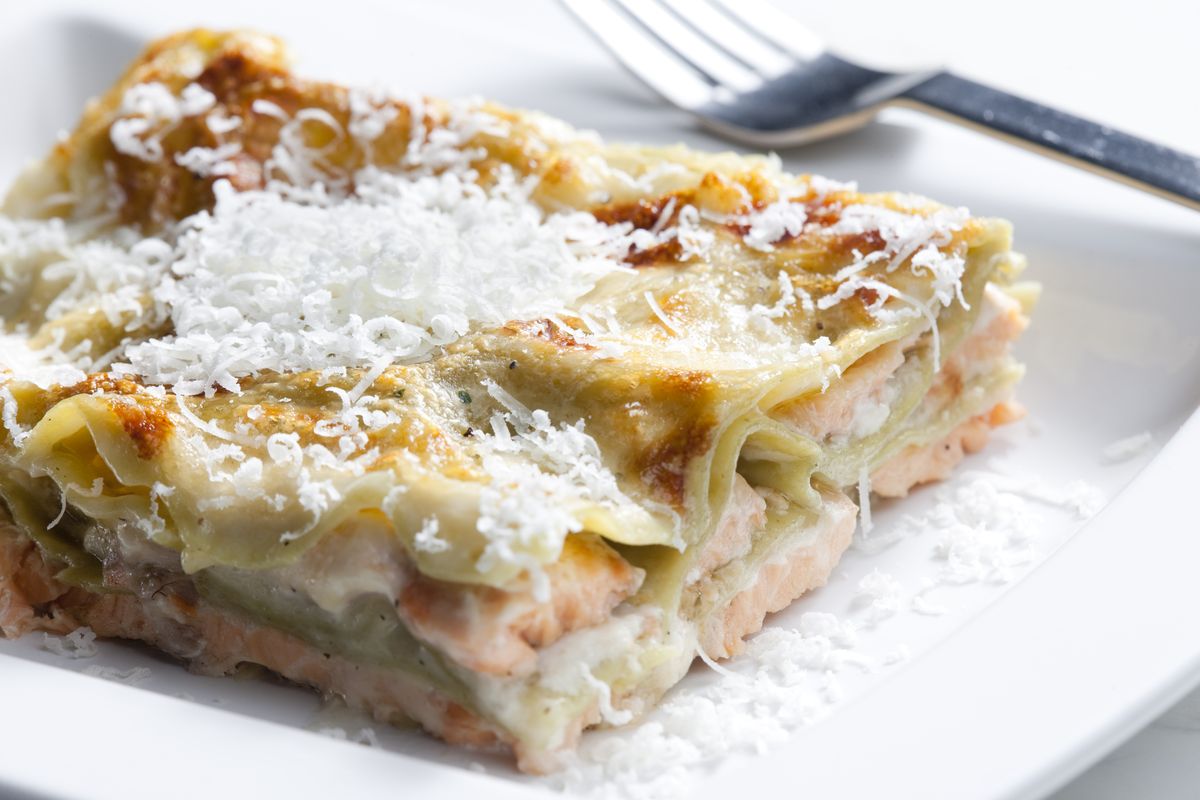 We told you that the trick to getting through Christmas lunch unscathed is knowing how to organize yourself. That's why even as a first course we have chosen something that can be done prepare in advance. Salmon lasagna is simple but at the same time refined, they are baked just before you sit at the table for the appetizer and everyone really likes them with their flavour.
Ingredients for 4 people:
250 g of lasagna pasta
400 g of smoked salmon
3 tablespoons of grated cheese
extra virgin olive oil to taste
sale q.b.
pepe q.b.
1 liter of milk
noce moscata qb
100 g of butter
100 g of flour
First, cut into strips salmon and season it with a drizzle of olio and a pinch of pepe. Then prepare it bechamel the classic way: melt the butter in a saucepan, add the flour and cook until it turns hazelnut-coloured. At this point, pour in the milk, add salt and flavor with the nutmeg and cook until it thickens (continuing to mix so that no lumps are formed). Now that the ingredients are ready, all that remains is to assemble everything: spread a thin layer of béchamel on the bottom of a baking dish, form the first layer of pasta, cover it with the béchamel and finally distribute a little salmon. The last layer keep only the béchamel and cover it with the grated parmesan. Cook at 180°C for 30-40 minutes.
You can also add to each layer some zucchini or broccoli sautéed in a pan with oil and garlic to give the dish a little more flavor and substance.
Beer guinea fowl with potatoes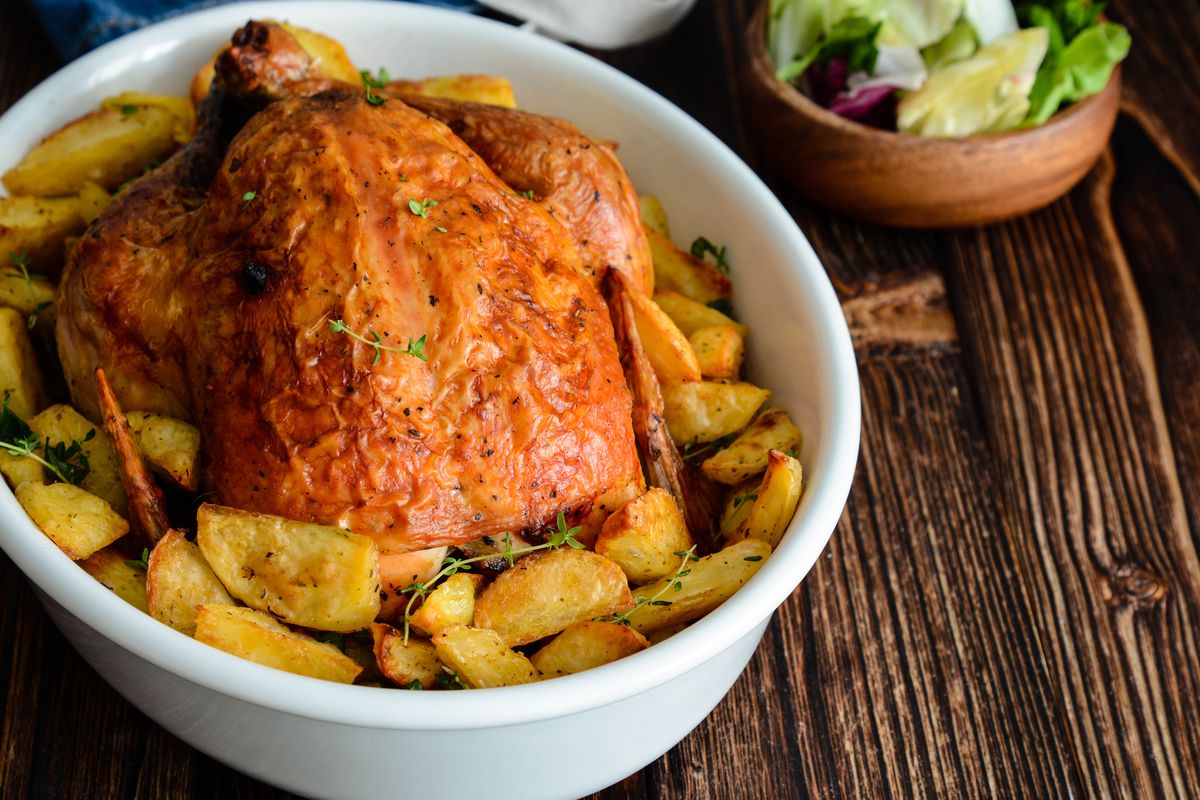 Main course and side dish together are another way to speed up the preparation of your Christmas lunch. In this case we chose beer guinea fowl cooked with new potatoes. You can prepare it just before the lasagna and keep it warm so that it has plenty of time to rest before serving.
Ingredients for 4 people:
1 pharaoh
1 bottle of beer
1 shallot
1 carrot
20 new potatoes
rosemary to taste
sage and aromatic herbs to taste
Salt and Pepper To Taste
extra virgin olive oil to taste
First, clean it thoroughly Pharaoh, flaming it in order to remove any small feathers. Then pour theolio and distributed shallot e carrot into chunks and new potatoes cut in half. Lay it down Pharaohscented with rosemary, salvia and other aromatic herbs to taste and drizzled with the beer. Add salt and pepper then start cooking a 180°C for one hour. About every 15 minutes, sprinkle the meat with the cooking juices and if the skin gets too dark, cover it with aluminum foil.
Mascarpone cream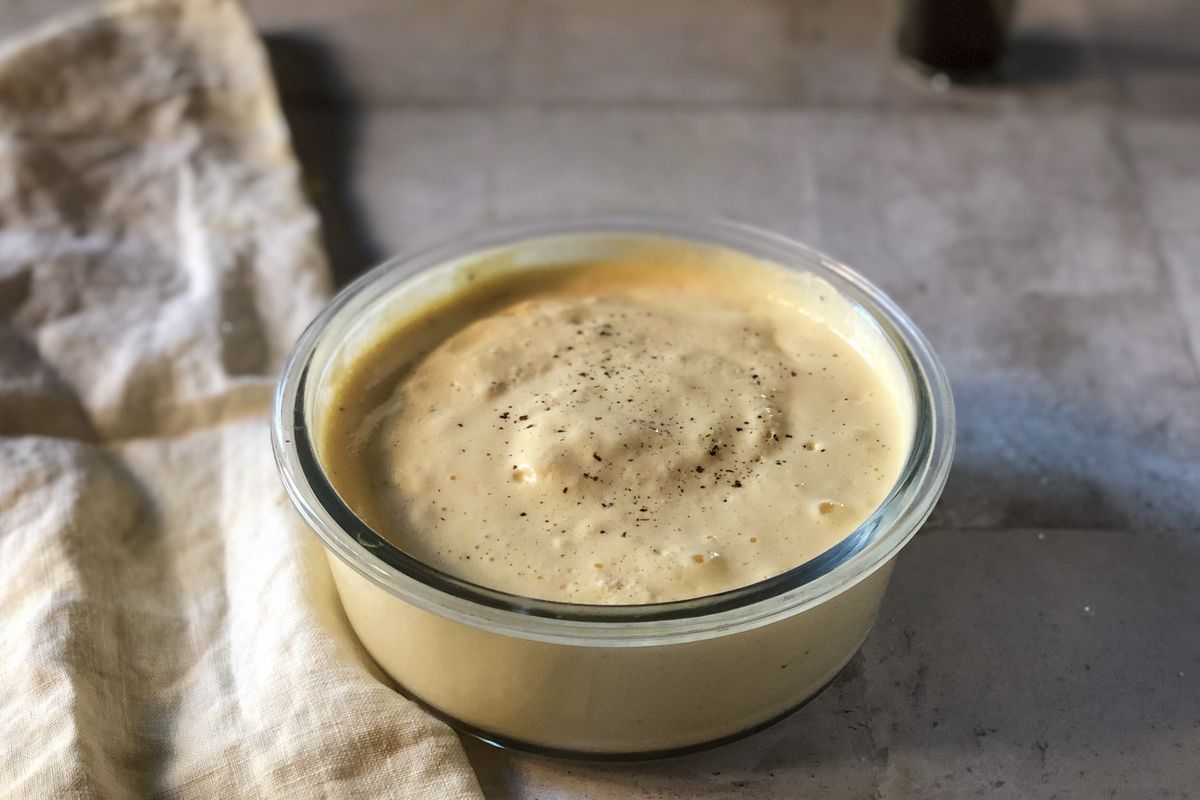 When it comes to simple recipes for Christmas and we have now reached the dessert, it is a must to mention the mascarpone cream. Perfect with pandoro or panettone, it can also be prepared the day before and stored in the refrigerator until serving.
Ingredients for 6 people:
250 g of mascarpone
60 g of sugar
½ teaspoon vanilla extract
3 very fresh eggs
First you divide the album dai yolks. Whip the first until stiff with half of the sugar. Work the second courses too, with the remaining sugar, until they are light and frothy. Mix them gently mascarponehelping you with a spatula, perfume with the extract of vanilla (or half a glass of liqueur of your choice) and finally incorporate the egg whites with delicate movements from the bottom up. Your mascarpone cream is ready to be served.
Ready to serve the best and easiest Christmas lunch ever?
Sign up for the Primo Chef newsletter to find out about new recipes, advice and news. Before anyone else.

Reserved reproduction © 2022 – PC

#quick #easy #recipes #appetizers #desserts