Raw purple cabbage salad, easy recipe for a quick side dish
Want a salad, fresh quick crunchy? Here is the raw purple cabbage salad
Easy to prepare and rich in nutrients, beautiful to see for the bright and beautiful color of the purple cabbage, tasty for the special dressing: raw purple cabbage in salads will be a success. We always prepare it accompanied by slices of apple and walnut kernels, with a touch of spice given by mustard, however you can experiment and find the combination you prefer to serve for family and guests.
Raw Purple Cabbage Salad, an explosion of colour and flavor achievable in a few gestures.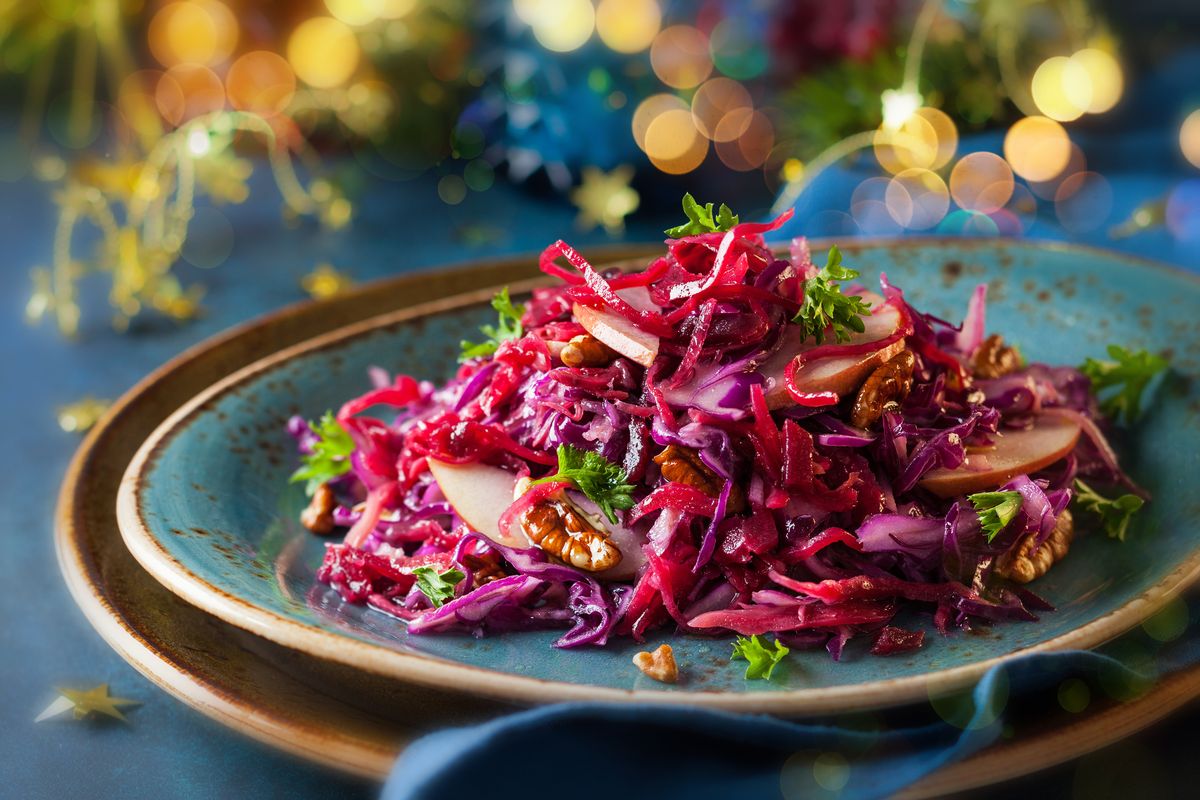 Preparation of raw purple cabbage salad
Start by cutting the cabbage very finely, then wash it quickly under cold tap water and let it drain well.
Wash the parsley and keep only the leaves. Peel the apple and cut it into small cubes.
Aside, prepare the sauce placing in a bowl the mustard, then the lemon juice, then the salt and finally the extra virgin olive oil and stir well to make a compact sauce.
Now take a comfortable bowl to season the raw cabbage salad to which you will add the diced apple and the parsley, before sprinkling it with the delicious seasoning prepared with mustard, oil, lemon and salt.
Stir well to mix everything, add the walnut kernels which will give more crunchiness to the dish and bring to the table. If you like, you could add a pinch of freshly ground black pepper.
This delicious course of raw purple cabbage salad goes well with main courses of all kinds but is also spot on to fill sandwiches or as part of a vegetable starter. The secret to the success of this dish is finely chop the cabbage so you can savor it without losing its crunchiness. If you like this type of vegetable, we also recommend baked red cabbage!
storage
Being the salad already dressed we recommend consume it at the moment. We do not recommend freezing in the freezer.
Sign up for the Primo Chef newsletter to find out about new recipes, advice and news. Before anyone else.

Reserved reproduction © 2022 – PC

#Raw #purple #cabbage #salad #easy #recipe #quick #side #dish