Salad corn sausage cucumber recipe with photo step by step and video
Step 1: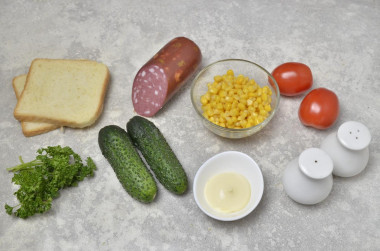 How to make a salad with corn, sausage, cucumber? Prepare food. Take a soft sausage, such as Moscow or Servelat. Choose a quality and tasty product, the taste of the salad will depend on it. Drain liquid from corn. Wash vegetables and herbs.
Step 2: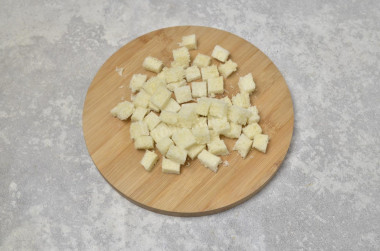 First of all, prepare the croutons. Cut the crusts off the bread. Cut the crumb into small cubes.
Step 3: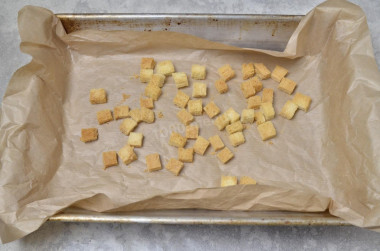 Lay them out on a baking sheet lined with parchment. Place the baking sheet in the oven preheated to 170°C. Dry the crackers for 15 minutes, until golden brown.
Step 4: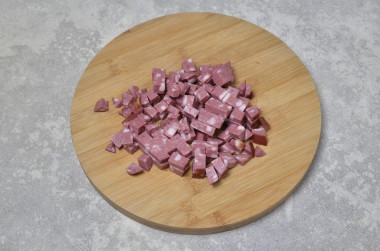 Remove the casing from the sausage. Then cut it into small cubes.
Step 5: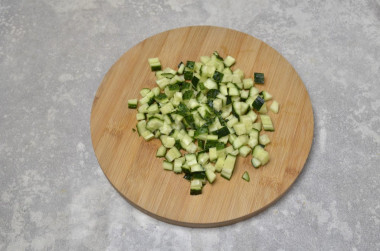 Cut off the ends of the cucumbers. Cut the cucumbers into the same cubes as the sausage. Be sure to try the cucumbers before slicing, whether they are bitter – such fruits will spoil the taste of the whole dish. The skin, if it is not rough, not damaged and not bitter, does not need to be cut from cucumbers.
Step 6: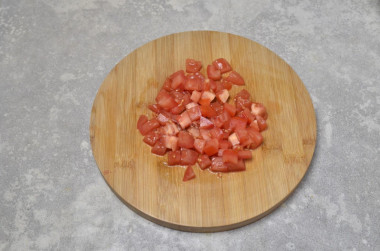 Cut the tomatoes in half, remove the stalk attachment point. Cut the tomatoes into the same cubes as the rest of the ingredients. Tomatoes choose juicy, but dense. Soft fruits do not hold their shape well; in the process of cutting and cooking, they will spread into a shapeless mass and spoil the appearance of the dish.
Step 7: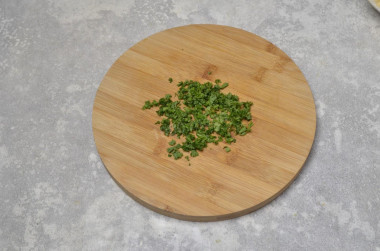 Finely chop the parsley, cutting off the thick stems before that.
Step 8: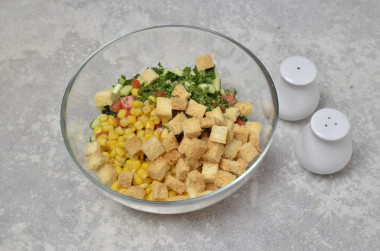 Put all the ingredients in a salad bowl, add corn and crackers there. Salt and pepper the salad to taste. Just keep in mind that it already contains sausage, and mayonnaise, which contains salt, will also be added. Don't oversalt.
Step 9: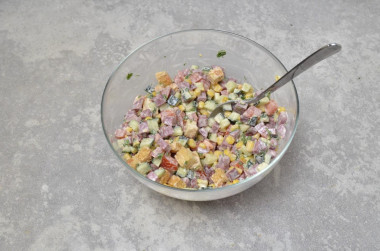 Add mayonnaise, mix.
Step 10: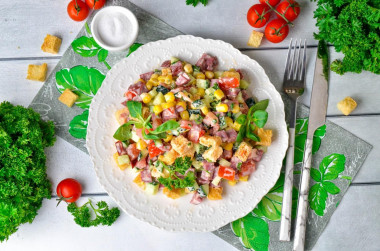 Serve the salad immediately to the table, otherwise the croutons will get soggy and stop crunching. Bon appetit!
#Salad #corn #sausage #cucumber #recipe #photo #step #step #video