Sauerkraut: original recipe | Very good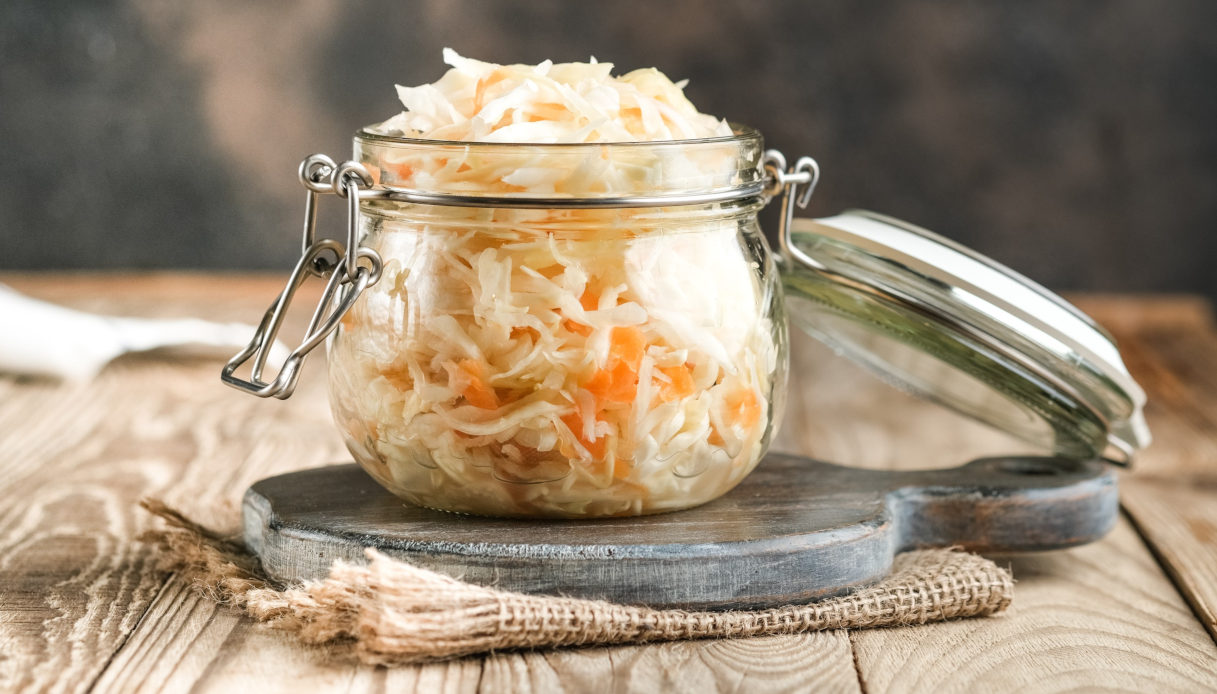 I sauerkraut they are a side dish typically prepared in South Tyrol as an accompaniment to other particularly high-calorie dishes. On their own, they are actually very nutritious, they promote digestion and strengthen the intestinal flora. Even if in Italy they are associated with frankfurters, in reality in German countries it is the sausages that are prepared together with this side dish. In some countries of the world they are so important and appreciated that they represent part of national dishes.
How sauerkraut was born
The word "sauerkraut" comes from the German "sauerkraut", a word that can be literally translated as "sour herb" or "sour vegetable". Sauerkraut is famous all over the world and there are countries where it is the main ingredient of the most representative national dishes of the local cuisine.
Sauerkraut first arrived in Europe from China with the migrations of the Mongols inHigh Middle age. Called "suan cai" in Chinese, they are highly appreciated in this country and in many others they form the national dish.
For example, at Corea the dish called "kimchi", composed of fermented sauerkraut with the addition of garlic and chilli, is always present on the table, while in Poland ed in Russia never miss the "Bigos", made with sauerkraut and cabbage mixed and cooked with pork and mushrooms. The national dish of Czech Republic is the "vepro,knedlo,zèlo", that is sauerkraut, Knödel and pork and in Hungary sauerkraut is added to the famous goulash.
In all German regions sauerkraut accompanies sausages of various shapes and textures, while the coupled "Wurstel with sauerkraut" it is an Italian invention. In fact, in Germany the "würstel", i.e. the small cooked and smoked sausages, are eaten with mustard and a loaf of bread.
Sauerkraut: original recipe
Preparing sauerkraut is very simple: you need to heat someolio in the pan, add the garlic cloves crushed and let them brown slightly, removing them as soon as they take on colour. At this point we need to quickly pass i sauerkraut under running water, drain and flavor them for a few minutes in the sautéed pan.
Everything is covered with del hot broth after salting, cook over low heat with a covered pot, stirring occasionally. When they take on a golden color they will be ready.
This is the recipe of basic preparation of sauerkraut in a pan, but in some dishes, especially meat dishes, it may happen that they have to be cooked together with other ingredients or with the meat itself.
The secrets to excellent sauerkraut
Sauerkraut can be found fresh from the supermarket or ready to be cooked. In the case of fresh sauerkraut, it is usually sold in the form of a whole head, such as for salads. It should be divided into four parts, being careful to remove the core and outer leaves by cutting the cabbage into very thin strips.
To prepare fresh sauerkraut better to choose a cabbage from organic farming: in this case, in fact, the fermentation takes place naturally, thanks to the bacteria contained in the leaves, for this reason it is important that no chemical products have been used.
Sauerkraut goes perfectly with fatty dishes, thanks to their acidity due to the fermentation period. But if they turn out to be too much acidsyou have to immerse them in cold water and massage them for a few minutes, then drain them well and squeeze them.
Sauerkraut can be stored in the refrigerator for a week, covered in brine. Otherwise, you have to pasteurize them following the method of preserving jams.
Variations of sauerkraut
The basic preparation of sauerkraut is very simple but many can be cooked different ways according to the traditions. For example, Bavarian sauerkraut is prepared by browning it in lard and other ingredients, then adding wine and broth.
A particular sauerkraut recipe, on the other hand, is sweet sauerkraut with pork, a delicious way to prepare this side dish based on broth and white wine. The Alsacienne Choucroute instead is one French preparationa dish of pork and sauerkraut, typical of Alsace.
Sauerkraut is a very important ingredient for some dishes that are famous all over the world, such as the well-known Hortobagy Goulash, a pork stew with vegetables typical of Hungarian cuisine.
Also in Kapusniak we find sauerkraut, one soup of Ukrainian cuisine which is prepared with pork shank and served very hot. Sauerkraut is present in another Ukrainian dishthe Solyanka, a winter meat and pickle soup.

#Sauerkraut #original #recipe #good