Seedless plum jam – a simple and tasty recipe, how to cook step by step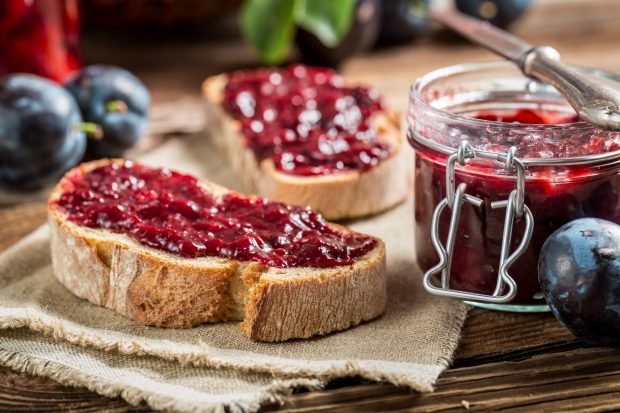 I love this plum jam recipe for how easy it is to make. It is important that it does not use artificial preservatives and thickeners – the natural acid and pectin contained in plums is quite enough. Replenish your stocks with an interesting blank
Step by step cooking recipe
Sort the plums, rinse and lightly dry. Then divide the fruits into halves and remove the seeds. Place the plums in a bowl for cooking, add water and over medium heat, stirring constantly, boil for 15-20 minutes after boiling.
Puree the softened pulp with a blender (you can also rub the mass through a sieve).
Add sugar and bring to a boil over high heat again. Then reduce the fire and boil the jam for 25-30 minutes, not forgetting to remove the foam.
Optionally, 20 minutes before cooking, you can add various spices (vanilla, cinnamon, cardamom, cocoa), citrus zest, nuts or liquor to the boiling jam.
Pour the prepared hot plum jam into pre-sterilized small jars, seal tightly and cool at room temperature. For long-term storage, move the workpiece to a cool, dark place.
#Seedless #plum #jam #simple #tasty #recipe #cook #step #step