Sfoglio polizzano delle madonie, the original Sicilian recipe
The sfoglio polizzano delle madonie is a typical Sicilian dessert prepared with shortcrust pastry and stuffed with Tuma cheese. Here is the original recipe.
Sfoglio polizzano delle madonie, also known as sfuagghiu, is a typical product of Sicily, also recognized Traditional food product by the Ministry of Agriculture. It is a dessert made up of a pastry shell stuffed with various ingredients. The characteristic of this cake is in fact in the filling: the main ingredient is the cheese Tuma, the first that is obtained from the processing of milk and the one that after spending a month in salt is transformed into primosale. To this they add sugar, chocolate, cinnamon and candied fruit which, skilfully combined, give life to a truly special recipe.
The origin of the sweet is traced back to XVII century when the Benedictine nuns of the Convent of Santa Margherita in Polizzi Generosa prepared it to celebrate their protector, San Benedetto. Since then, the Madonie slip has never ceased to be prepared and every year the municipality of Polizzi organizes the leaf festival.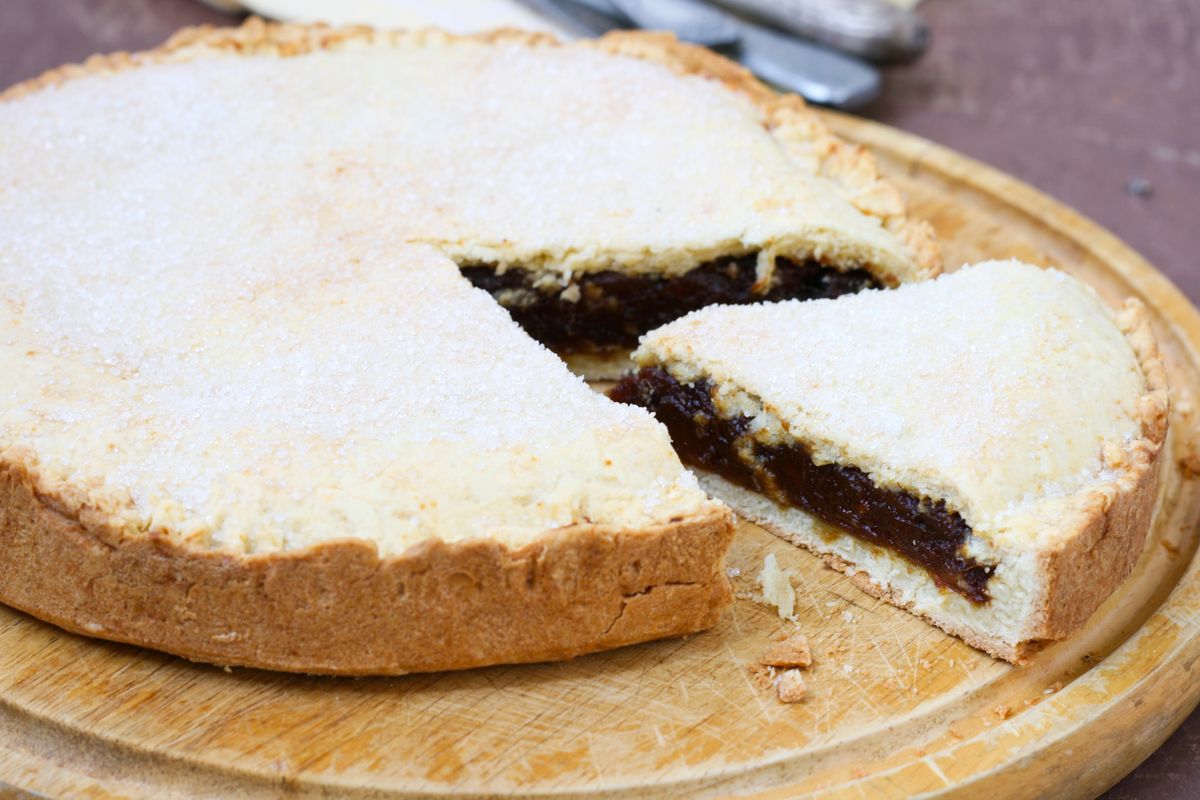 How to prepare the recipe for the Madonie puff pastry
First of all prepare the shortcrust pastry. In a bowl mix flour, sugar and lemon zest and season with a pinch of salt. Then add the cold butter cut into chunks and start kneading with your fingertips until you get a crumbly mixture. Then add the egg yolks and Marsala and finish kneading until you get a homogeneous dough. Wrap it in plastic wrap and let it rest in the refrigerator for an hour.
In the meantime, dedicate yourself to the preparation of the stuffed. Whisk the egg whites with the sugar until stiff, then add the cinnamon, dark chocolate and candied fruit. Then add the grated tuma and mix gently.
Divide the pastry into two parts and roll it out so as to obtain a disc of one centimeter thick. Transfer it to one 22-24 cm tray lined with parchment paper and prick the bottom with a fork.
Pour the filling and level it with a spatula then roll out the remaining pastry and use it to close the cake. Seal the contact points well then bake at 180°C for 45 minutes. Once cold, remove it from the mold and serve it with a sprinkling of powdered sugar.
If you liked this Sicilian dessert, we suggest you also try the cassata recipe.
storage
Being a shortbread dessert, you can keep it out of the refrigerator for a couple of days. Alternatively, store it in a cool place, well covered and consume it within 3-4 days.
Sign up for the Primo Chef newsletter to find out about new recipes, advice and news. Before anyone else.

Reserved reproduction © 2023 – PC

#Sfoglio #polizzano #delle #madonie #original #Sicilian #recipe