Solyanka with mushrooms and cabbage for the winter in jars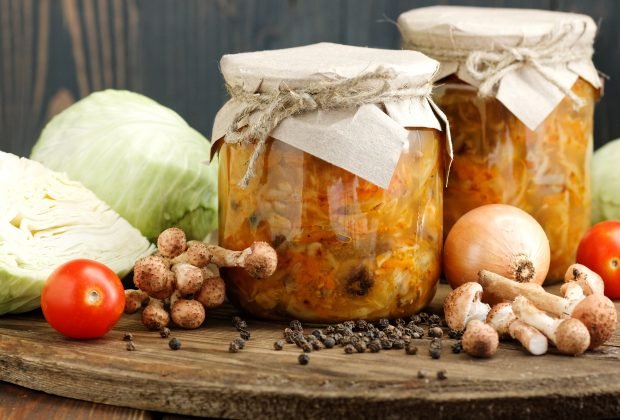 Prepare a delicious sauerkraut with mushrooms according to this simple recipe. In winter, you will have an independent snack and a full-fledged lean meal on your table. Serve hodgepodge with meat and various side dishes, and also use it as a dressing for first courses.
Step by step cooking recipe
Peel the mushrooms from sand and skin, rinse under running water, cut into arbitrary pieces. Boil the mushrooms over low heat for 10 minutes after boiling, then drain in a colander.
Peel the onion and carrot, finely chop the onion, grate the carrot on a coarse grater.
Fry the onion in hot vegetable oil, then add the carrots and fry everything together for 5-10 minutes, stirring occasionally.
Chop the cabbage and send to the fried vegetables, mix.
Add mushrooms, salt, add sugar, black pepper and bay leaf. Mix everything and simmer over low heat under the lid for 30 minutes after boiling.
5 minutes before cooking, add vinegar.
Put the hot hodgepodge with mushrooms in pre-sterilized jars, roll up, turn upside down, wrap and leave to cool. Then move the workpiece to a cool dark place, you can in the refrigerator.
#Solyanka #mushrooms #cabbage #winter #jars