Stuffed savory vol-au-vents: the recipe for the appetizer
Vol-au-vents are a delicious appetizer, ideal for filling in many ways and for serving. Here is the easy recipe and many ideas for the filling!
Today we prepare one recipe marvelous, perfect to bring to the table to cheer up the Holidays and to tempt your guests… savory vol-au-vents with fondue, a typical Christmas appetizer. These are baskets of puff pastry that can be filled in many ways, and which lend themselves above all to fillings creamy.
Among the most famous, there are those with a very tasty filling of Fondue of cheeses, which today we will see together how to make, but there are also many other recipes for savory vol-au-vents to try. You are ready? So let's start!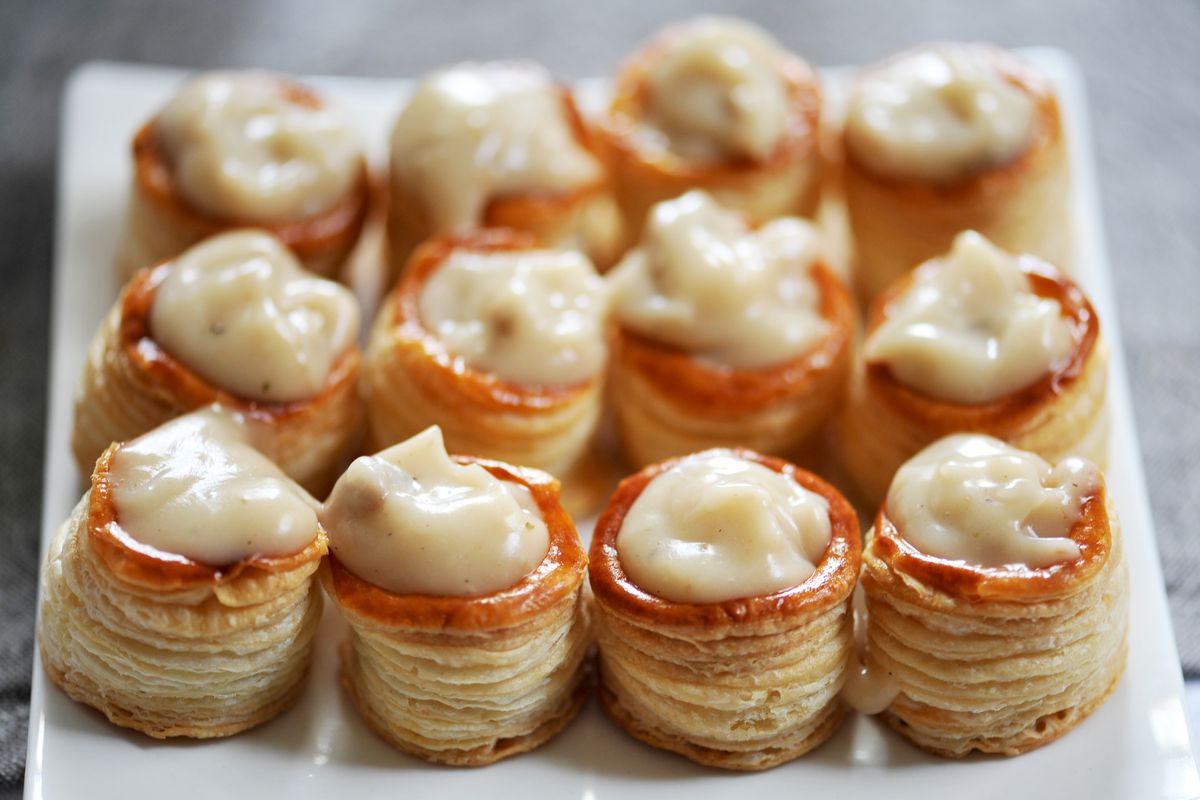 How to make stuffed vol-au-vents
First of all, take the puff pastry roll, roll it out gently without breaking it and then cut out some disks with a diameter of at least 5-6 cm.
At this point from the disks obtained, with a cookie cutter smaller, a central circle and rings. These will be the parts to compose your vol-au-vents: the disks will be the base, and above each one you will have to place three rings, which will form the walls. If you want you can also create a small lid, which will serve as a elegant decoration.
Once you've created all the baskets, you'll need to have assembled them buckle lando a little milk between the layers to make the pieces of dough adhere to each other, punch holes the base and cook them in the oven at 200°C for approx about ten minutes.
Now let's move on to filling the vol-au-vents with fondue, the crucial phase. Prepare the fondue by doing melt butter and flour in a saucepan. Once the roux is created, add the milk and then the cheese a cubes.
Mix everything until you get one consistency creamythen add a pinch of salt and pepper and a little grated nutmeg.
At this point, fill the vol-au-vents that you will have made in the meantime cool down. If you can, serve them on the spot still hot, otherwise you can compose them and warm them up slightly before bringing them to the table.
Stuffed vol-au-vent: recipes and tips for preparing them
In addition to the classic hot filled vol-au-vents with fondue, there are many other sauces that you can make to bring to the table a quick, tasty appetizer that is difficult to give up. For a vegetarian filling, just warm the puff pastry box slightly and stuff it with a spoonful of Russian salad. Not only that, we also recommend preparing mushroom vol-au-vents. You will have to realize the bechamel as per the classic recipe, and on the side cook in a pan mushrooms (we recommend porcini) with a drizzle of oil and garlic. Once they are toasted, remove the garlic and add chopped parsley and, as a last step, blend them together with the béchamel and here is a spot-on and delicious filling for vol-au-vent.
Moving on to other fillings, the cocktail sauce certainly cannot be missing. For a classic but fun idea, we recommend preparing the traditional prawn cocktail and "dishing it up" directly inside the puff pastry glasses. Or why not prepare vol-au-vents filled with cooked ham? Make the mousse with some fresh ricotta or robiola, the blended ham, salt and pepper and stuff them. The same procedure to follow is also to prepare a filling with salmon, tuna or even with mortadella.
In short, there are many ideas to make one of the most sought-after Christmas appetizers, and which one do you choose?
storage
These filled vol-au-vents, quick and very easy, is good consume them at the moment so that the pasta does not become soft due to the filling and the filling does not risk losing its qualities.
READ ALSO: New Year's menu: the recipes to start the new year in the best possible way!
Sign up for the Primo Chef newsletter to find out about new recipes, advice and news. Before anyone else.

Reserved reproduction © 2022 – PC

#Stuffed #savory #volauvents #recipe #appetizer