Sweet peaches: original recipe | Very good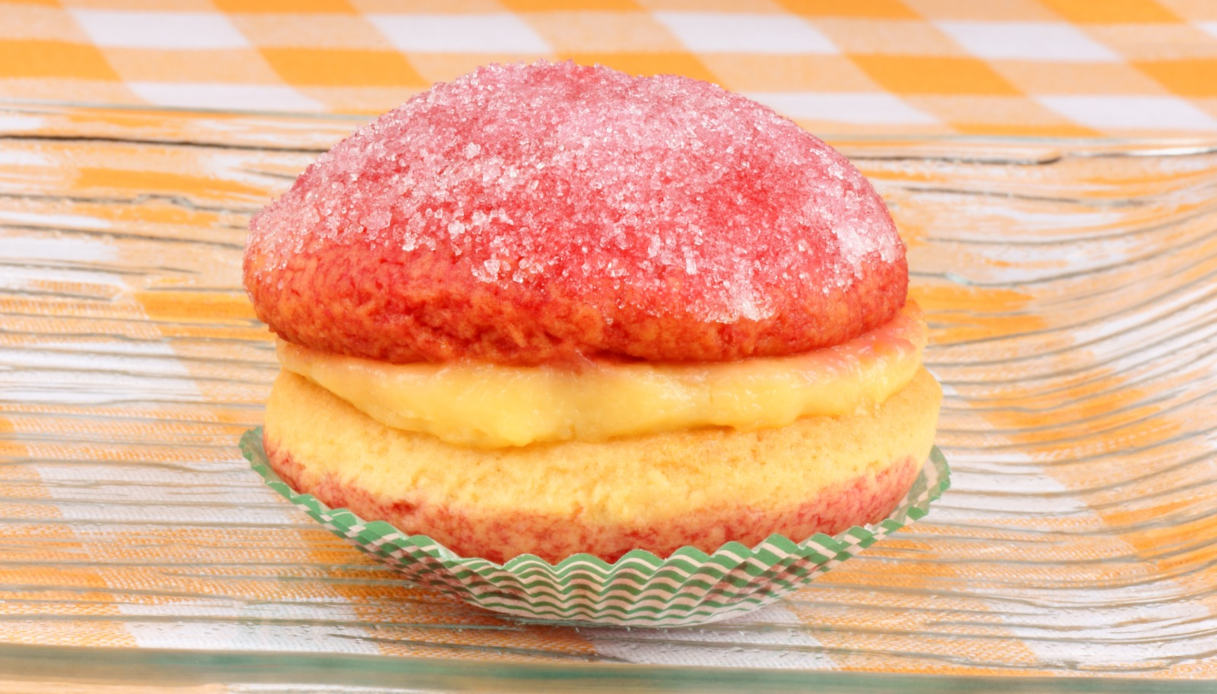 The Sweet peaches they are pastries that are prepared for Carnival but are perfect for a sugary snack all year round! They are not peaches, but their shape and the sugar used as a garnish are reminiscent of the fruit. In fact, these are soft biscuits filled with custard (or chocolate cream) and rolled in sugar, dipped in a liqueur which, however, can be replaced with water and sugar, so as to become a delicious snack for children.
How sweet peaches were born
Sweet peaches are known as peaches in Alchermes, typical of the Tuscan-Emilian Apennines area. However, there are no official documents attesting to its local origin, just as there are no recipes officially recognized as original. It is said that they were originally used instead of alchermes other liquorswhich made them more alcoholic and dry.
The first historical information on this dessert dates back to 1800 and alkermes was already used to color them to make them softer and lighter, while it seems that other liqueurs were used in the past.
These cookie dough treats are reminiscent of peaches, hence the name. As with all recipes, there are many variations, especially as regards the filling which can be based on simple custard or chocolate cream.
Sweet peaches: original recipe
Sweet peaches are de facto gods biscotti and in fact the original recipe calls for the use of flour, sugar, eggs, yeast, lemon zest, salt and butter to be mixed either in the planetary mixer with a hook whisk or by hand. During processing, the milk must be added little by little to obtain a soft but homogeneous doughso you can make balls.
The balls should be placed on a tray, cooked in static mode at 180° for 15 minutes being careful not to let them get too dark. When they reach a golden color, you have to take the balls out of the oven which will be in the shape of hemispheres and let them cool at room temperature for about ten minutes.
Once warmed up, you need to dig the hemispheres slightly with the help of a knife or a teaspoon so as to fill the space obtained with the filling choice and add a second half to each half.
The original recipe of the sweet peaches requires that at this point the biscuits are placed in a container with somealchermeswithout soaking them too much, so in the caster sugar.
The secrets for excellent sweet peaches
Instead of custard, you can use custard chocolate cream (or Nutella) or the marmalade. A little trick to churn out the peach halves already provided with a basin in the middle is to insert half a walnut shell in the center of the dough before informing and once the peach halves have been extracted, simply remove the shell.
L'alchermes it is the liqueur that is traditionally used for sweet peaches and it is also the main ingredient of the trifle. However, to reduce its alcoholic taste, it can be watered down or even replaced with water and sugar. In this way, the biscuits are also perfect for children.
Sweet peaches can be prepared in advance, stored in a tin box and then stuffed a few hours before serving. They can be kept in the refrigerator for 2-3 days from the time of preparation.
The variants of sweet peaches
Sweet peaches are gods filled biscuits and there are many variations and alternatives in the pastry shop that recall these desserts. An example are tiramisu biscuits, which provide a filling similar to that of tiramisu placed between two layers of biscuit.
If, on the other hand, you are looking for biscuits filled but closed, the heart of apple biscuits have a dough similar to that of sweet peaches but a filling, closed, with apples. Even the biscuits filled with lemon follow the same line: once cooked in the oven, they must be cut and filled with a lemon cream.
Are you looking for typical sweets of Carnival to accompany or replace sweet peaches? There are many recipes to choose from, such as Carnival biscuits, Carnival lies and the delicious Carnival pancakes!

#Sweet #peaches #original #recipe #good