Tartiflette, the recipe for the quintessential winter dish
Potatoes, onions, bacon and cheese – what a clever combination of ingredients. This is how they make up the delicious tartiflette.
If you are looking for a second course to warm up the winter, the tartiflette is the recipe for you. Originally from Haute Savoie, it is a sort of potato flan enriched with bacon, onion and cheese, but not just any cheese. It will serve the reblochon, a raw milk cheese typical of the area. If you can't find it, it can be replaced with Camembert, Brie or Taleggio cheese.
The procedure is quite simple but we can guarantee you that you will hardly find something so tasty. The beauty of the dish is that you can too prepare in advance and bake it just before sitting at the table. But stop hesitating: let's see the original tartiflette recipe.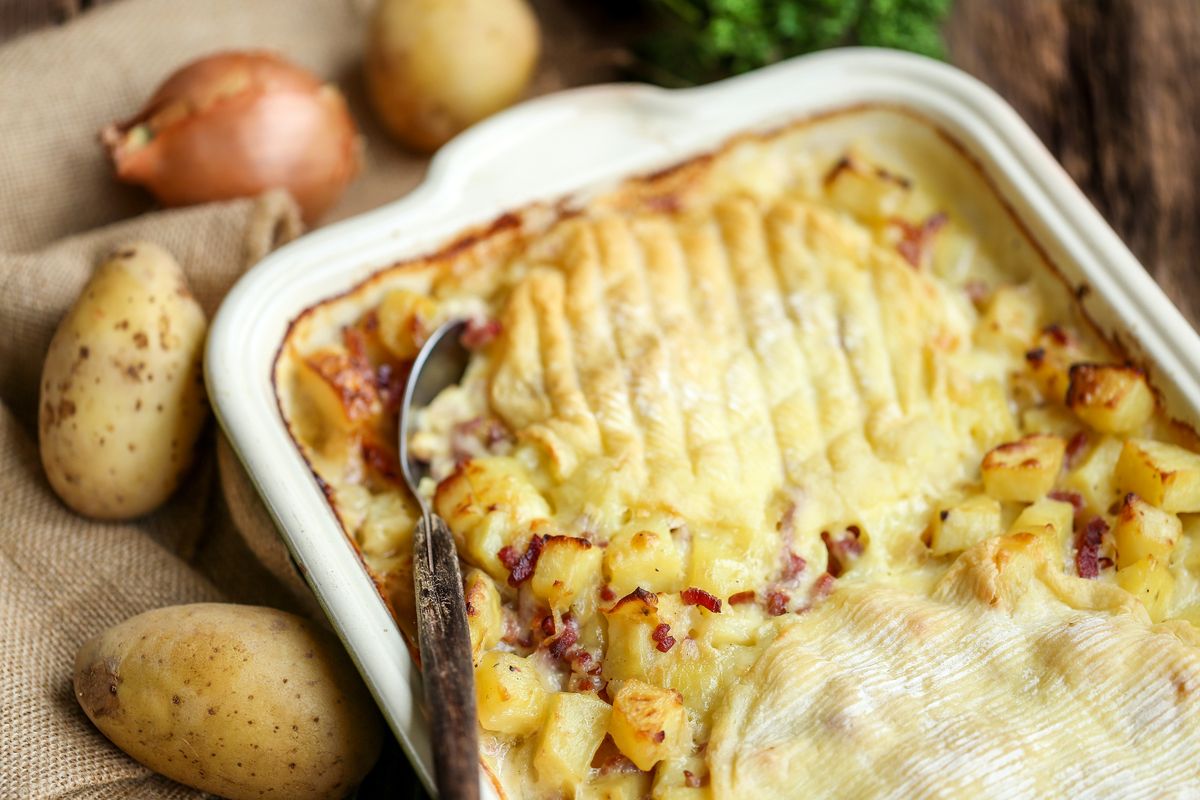 How to prepare the tartiflette recipe
First of all peel the potatoes and boil them in plenty of salted water for 20 minutes. They must not be overcooked or they will fall apart.
Meanwhile, chop the onions and brown them in a pan with the butter.
Cut the bacon into strips (skip the step if using diced bacon) and add it to the pan with the onion.
When both will turn out well browned, pour in the white wine and continue cooking for 15 minutes, adding a few tablespoons of water or broth. The onions should almost reduce to a cream.
Once the potatoes are ready, drain them and let them cool before cutting them into thin slices slices (or in cubes) half a centimeter thick.
Butter a baking dish and distribute a first course layer of potatoes. Cover it with half of the onions and bacon then continue with another layer of potatoes. Complete with the remaining onions then cut the cheese in half lengthwise and place it on the potatoes, cut side down.
Bake in the oven at 200°C for 20 minutesserving everything piping hot.
When it comes to recipes with potatoes, the French are very busy. Do you want to try another one typical of the area? The gratin dauphinoise is the recipe for you.
storage
Once in the oven, the tartiflette is preserved for 2-3 days in the refrigerator but before consuming it, always heat it in the oven or microwave so as to restore the creaminess of the cheese.
Sign up for the Primo Chef newsletter to find out about new recipes, advice and news. Before anyone else.

Reserved reproduction © 2023 – PC

#Tartiflette #recipe #quintessential #winter #dish