"Teschin language" from zucchini with tomatoes for the winter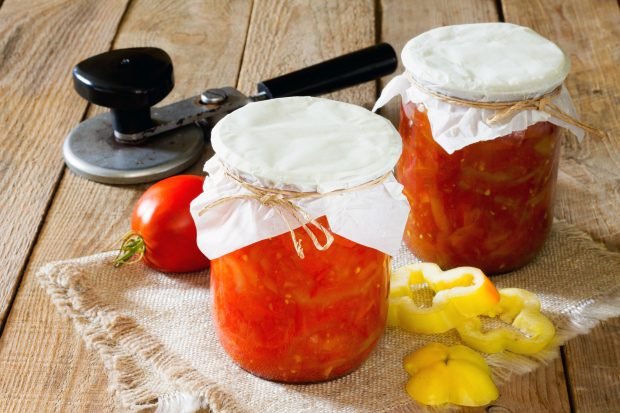 Despite the caustic name, many canned zucchini appetizers canned in this way will appeal to many. Spicy and spicy, like the sayings of your beloved mother-in-law, in winter this preparation will decorate any holiday table. I share a simple recipe.
Step by step cooking recipe
Peel the Bulgarian pepper and chili pepper from the seeds and cut into slices, chop the tomatoes. Then skip the vegetables through a meat grinder or smash with a blender until smooth.
Place the vegetable mass in a cooking pot, add salt, sugar and vegetable oil. Stir and simmer over low heat for 10 minutes after boiling.
Clean the zucchini from the peel and seeds, cut into long sticks.
Add the zucchini to the boiling vegetable mass, mix gently and bring to a boil again. Boil the workpiece over low heat for 20 minutes.
Add minced garlic, stir and cook, stirring, for another 10 minutes.
A few minutes before readiness, add vinegar.
Pack the hot blank in prepared sterile jars, roll up, turn upside down, wrap and leave to cool completely.
#Teschin #language #zucchini #tomatoes #winter