the best ideas for a fantastic table
Are you looking for the best mise en place for Easter lunch? Here are the best ideas for a table set with style.
The Easter holidays are getting closer and closer and it is better to start preparing. In order not to be caught unprepared, you can follow some ideas to create the most suitable Easter mise en place for your table. Between flowers and olive branches, passing through colored eggs – and not only -, you can have fun in many ways to set the table in an original and comfortable way. Do not forgetthen, to choose a truly effective menu for the occasion.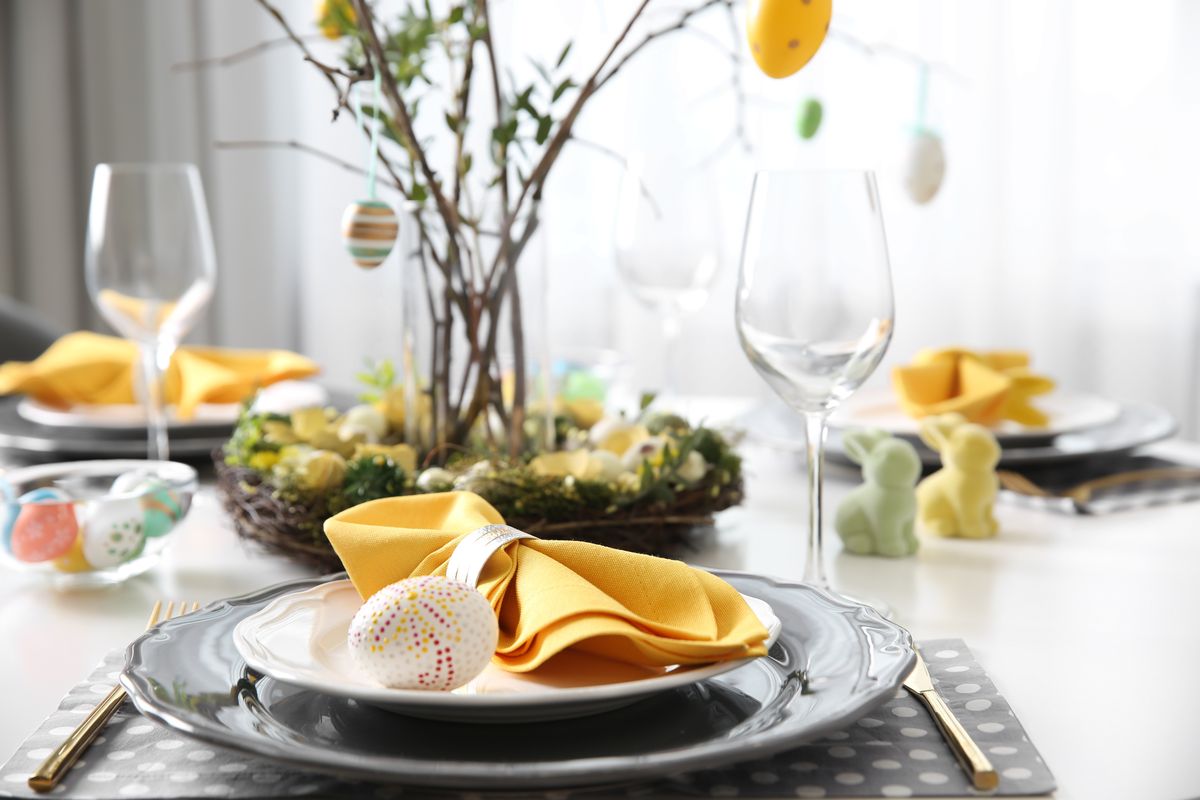 Style tips for an original Easter mise en place
As always, we begin to shape the table from tablecloth. This is kind of like the canvas on which to bring your creation to life. To give a touch of elegance, you can choose one totally white or cream. In this case, you can combine it with colored dishes, and maybe even with placemats. For a minimal style you can choose gray ones. If your choice falls on gold-toned plates and cutlery, however, you will make the table more elegant and refined.
To make lunch a little more lively, you can choose a plain colored or patterned tablecloth, the most suitable would be with flowers. The best advice, however, is to prefer soft or warm colors. Remember that spring has finally arrived, so you can abound with flowers even in the decorations of plates and glasses. If you want to choose the same color combination for the tablecloth and the dishes, you can create a gap between the two elements with a colored cloth underplate or placemat.
Now let's move on to the napkins. For a special lunch, use the cloth ones. Choose them white, on a colored table, or the same color as the tablecloth (in this case, highlight them on the plate). An original idea is to model them to create imaginative shapes. You can twist them to get a small rose and place them in the center of the plate or in the glass, or in the shape of a small vase to insert a flower or a small chocolate egg inside. To amaze your guests, create the head of a bunny, leaving a bundle underneath and knotting two flaps of the napkin, as if they were ears.
Ideas and advice for setting up the table
To make the Easter mise en place even more special, you can enrich it with many decorations. In addition to creating nice containers for your Easter eggs with napkins, you can place them in wicker baskets, placed as centerpieces. You can use them to give a tocco country at your table, together with straw placemats, placed on a white or flowered table, and accompanied by copper cutlery. In this case, you can choose other decorations with rustic tones, such as a string with which to stop the rolled napkins or place cards made of wood.
The centerpiece must not be missing and you can use one if the table is not very large. If the plank is long, put one larger one in the center and others two small ones on the sides. Choose small glass or porcelain vases filled with flowers or olive branches. You can also use some flowers to create spring place cards.
Don't forget to take care of the menu. A cute idea is camouflaged eggs.
Sign up for the Primo Chef newsletter to find out about new recipes, advice and news. Before anyone else.

Reserved reproduction © 2023 – PC

#ideas #fantastic #table