the chef with 3 Michelin stars
Clare Smyth and her restaurant career: from Gordon Ramsay to the creation of her three-Michelin-starred restaurant, Core.
Clare Smyth, born in 1978, is the first and only British female chef to have obtained three Michelin stars in the United Kingdom. In her resume, she has experiences in the wedding catering between Prince Harry of England and Meghan Markle and she was also a guest of honor in the latest episode of Masterchef 12. Let's find out everything about her: from her beginnings, to her career growth and even her private life.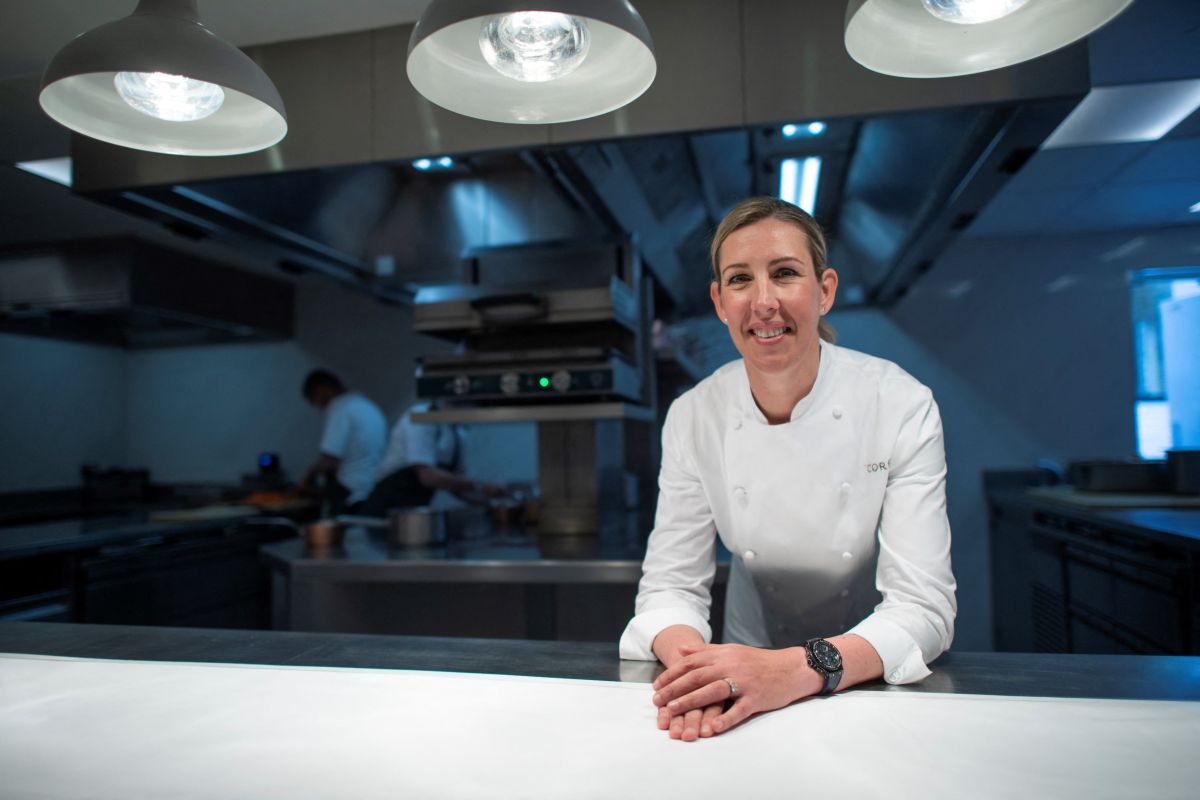 Who is Clare Smith
Clare Smyth, born in September 1978 in Northern Ireland, was raised very simply on a farm in Antrim, and is the youngest of three children. Her father William was a farmer, while her mother Doreen worked as a waitress in a local restaurant.
At the age of fifteen, Smyth worked at a local restaurant during the holidays, an experience which inspired her to become a chef. So she has left school at sixteen to study catering at Highbury College in Portsmouth, Hampshire.
Clare Smyth's career
Since embarking on her restaurant journey, Clare has never stopped, starting work since cooking school. During this time she completed an apprenticeship at Grayshott Hall nel Surrey. After this experience, she worked full time at Terence Conran's restaurant Michelin House in London. Subsequently, she spent six months in Australia working for a catering company, before returning to the UK to work in a variety of restaurants including The Waterside Inn e Gidleigh Park. Later she worked at the restaurant's St Enodoc Hotel in Cornwall as sous chef and then as head chef, winning the title of Young Cornish Fish Chef of the Year.
In 2002, Gordon Ramsay offered Smyth a place at his restaurant. In 2007, she was announced as the new one head chef of the Gordon Ramsay restaurantbecoming the first female UK chef to run a three-Michelin-starred restaurant.
In 2013Smyth was named "Chef of the Year" by the Good Food Guide. It also earned a perfect score from the Good Food Guide in 2015 and won the Chef Award at The Catey Awards in 2016.
Smyth also worked for a year and a half in the restaurant Le Louis XV by Alain Ducasse in Monaco before returning to the Gordon Ramsay restaurant before leaving it permanently and opening his own restaurant.
In 2018Smyth was nominated Best chef in the world at the World's 50 Best Restaurants, in the same year she hosted the private wedding reception of Prince Harry and Megan Markle. Her commitment and career achievements have made her famous all over the world and this has also seen her as a guest in some Television programs: at MasterChef in the UK and Australia, The Final Table, at Top Chef USA and The Late Show. She was also a guest at the final of Masterchef Italia 12.
The restaurants: the Core and Oncore by Clare Smyth
The chef has opened Core by Clare Smythin Notting Hill, London in 2017. And the place immediately stood out in the world of catering.
Core was named best restaurant at the GQ Food and Drink Awards in 2018 and received two Michelin stars in the 2019 Michelin Guide and tre stelle Michelin in the 2021 Michelin Guide e in 2022making Smyth the first British woman to have a restaurant awarded three Michelin stars.
In 2021, he opened a new restaurant in Sydney called Oncore by Clare Smith, which was described as "Sydney's best restaurant" by a Bloomberg review.
How much does it cost to eat at Clare Smyth's
Being a three-star Michelin, the prices of the Core restaurant are certainly not low, but you can easily view them on the sitein the Menu section. There is indeed a Classic tasting menu from 7 courses at the cost of £205 per person plus £135pp for the wine pairing.
Then there is a second tasting menu, which takes the name of "Fundamental Seasons". Also here are 7 courses for a cost of £225 per person and always the option to add the wine pairing course for £135 extra.
Finally there is also the a la carte menu with the possibility of choosing between 4 first courses, 4 second courses and 4 desserts for a cost of 155 pounds for lunch and 175 pounds for dinner.
Private life of Clare Smyth
Not much is known about the woman's private life, either on his Instagram profile he almost exclusively shares his recipes and moments in his restaurant. However we know it is married to Grantengaged in finance and living together in Wandsworth.
3 curiosities chef Smyth
– Got the title of Member of the Order of the British Empire.
– He cares a lot about his collaborators and wants the working environment in his restaurant to be relaxed and pleasant, just as if they were a big family.
– In July 2022 the chef published the core bookwhich includes over 60 recipes along with the history of the restaurant's first three years.
Sign up for the Primo Chef newsletter to find out about new recipes, advice and news. Before anyone else.

Reserved reproduction © 2023 – PC

#chef #Michelin #stars