the easy side dish recipe and some variations
Pan-fried peas are delicious and perfect both as a single dish and as a side dish for your meat or fish dishes.
If you are looking for a quick and easy recipe, but which at the same time guarantees you to taste a dish rich and tasty here is a delicious side dish for you: pan-fried peas. This is certainly the most common way of cooking these delicious vegetables, but the secret lies in the ingredients and theirs balancing.
Today we will see one recipe classic and some even more delicious variants: and whether they are fresh or frozen peas, they will acquire a truly unique flavor in the pan.
In short, if you don't know which side dish to prepare for your dinner, we have it answer to all your doubts. Let's get started now!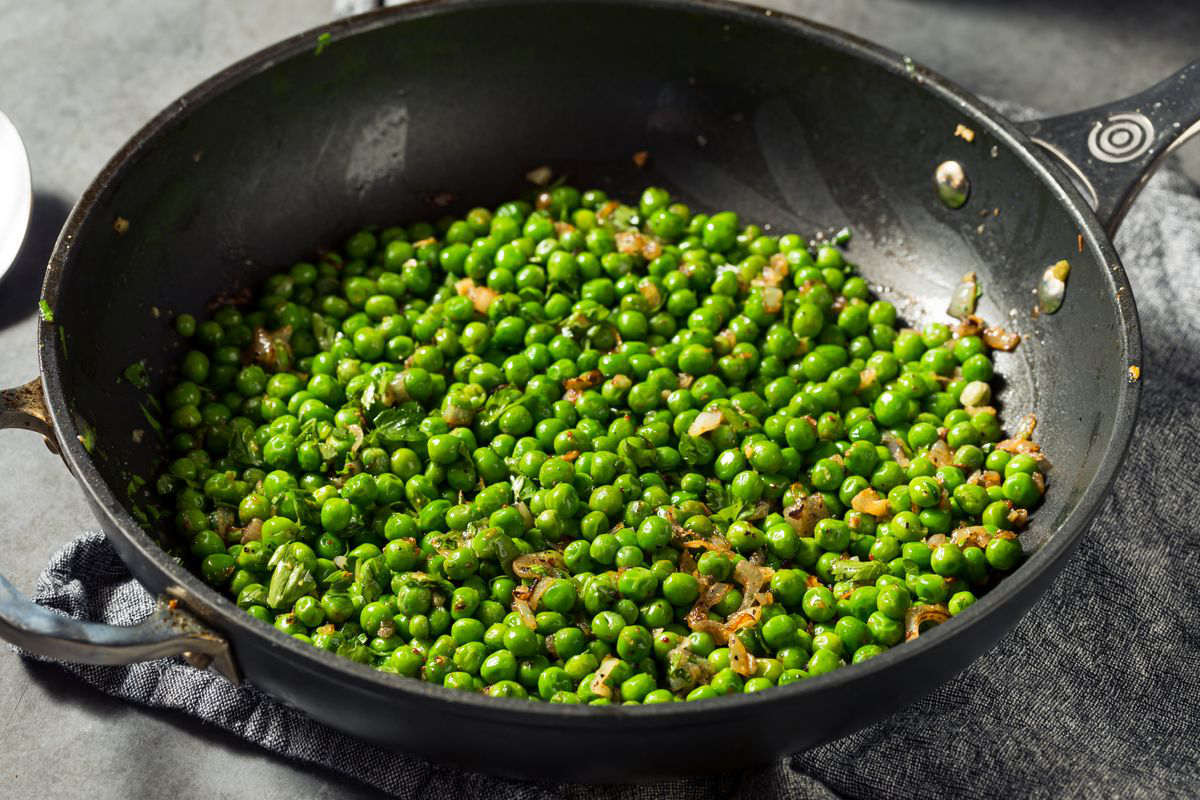 How to cook peas in a pan
First of all prepare the broth and put it to heat, it must be hot.
Shell the peas until you obtain the weight indicated and clean the onion or shallot, finely mincing.
Take a pan and heat a generous drizzle of oil, then add the onion or garlic shallot and let it wither well. If you want it nice and crunchy, leave it for at least a minute and a half, if you want a softer consistency, add a spoonful of broth at this stage.
At this point throw in the peas, salt and pepper and leave them to brown flame lively for a few minutes, skipping them or mixing every now and again.
Add the broth and cover the pan, still cooking about 15 minutes. Once you have obtained a thick base and the peas are cooked, turn everything off and serve immediately.
You can combine them with many other recipes from the first to the second course: a classic it is with cuttlefishbut also a second of Red meat it will be a good match. Furthermore, peas are perfect to use as a condiment for pasta, but also to make a creamy risotto or a more oriental one: Cantonese rice.
Variations of sautéed peas
You want to make this side dish even more tasty? Then you must definitely try cooking peas with bacon. What you have to do is simply insert the bacon during the first phase, when you are browning the onion. Instead of bacon, other cold cuts are fine: speck and raw ham will be fine perfect for a savory dish, but with a lesser sensation of fatness in the mouth!
Another idea may be to prepare stewed peas with tomato sauce. Cook it together with the onion (two or three tablespoons) and then add the peas and some broth if needed. The acidity of pomodoro will make this side dish fresher and inviting.
Finally, know that you can always add an aroma to this side dish: peas look great with a handful of chopped fresh parsleyor of the demand. And if you want to give it a little flavor boost, try some strong paprika (without exaggerating).
Also try the cuttlefish with peas, an unforgettable second course!
storage
We recommend keeping the side dish for maximum 2-3 days in the fridge, well covered by the transparent film or inside a special container with a lid. We do not recommend freezing in the freezer when cooked.
Sign up for the Primo Chef newsletter to find out about new recipes, advice and news. Before anyone else.

Reserved reproduction © 2023 – PC

#easy #side #dish #recipe #variations