the quick and easy recipe
Today we present one of the most popular quick and easy recipes. We're talking about rocket and walnut pesto, a tasty quick sauce!
The rocket and walnut pesto recipe is a valid alternative to the traditional Genoese pesto, very popular throughout our country. The rocket and vegan walnut pesto, however, stands out for its strong and particular taste given precisely by the slight spiciness given by the rocket. Furthermore, the use of walnuts gives an even more full-bodied flavor.
That proposal is a light recipe that it adapts to any type of food style. With this sauce it is possible to prepare a delicious pasta with rocket pesto very easily and quickly. Naturally, if you do not follow a vegan diet, you can add grated cheese to the recipe, choosing between pecorino and parmesan.
Let's see, therefore, the ingredients and the procedure.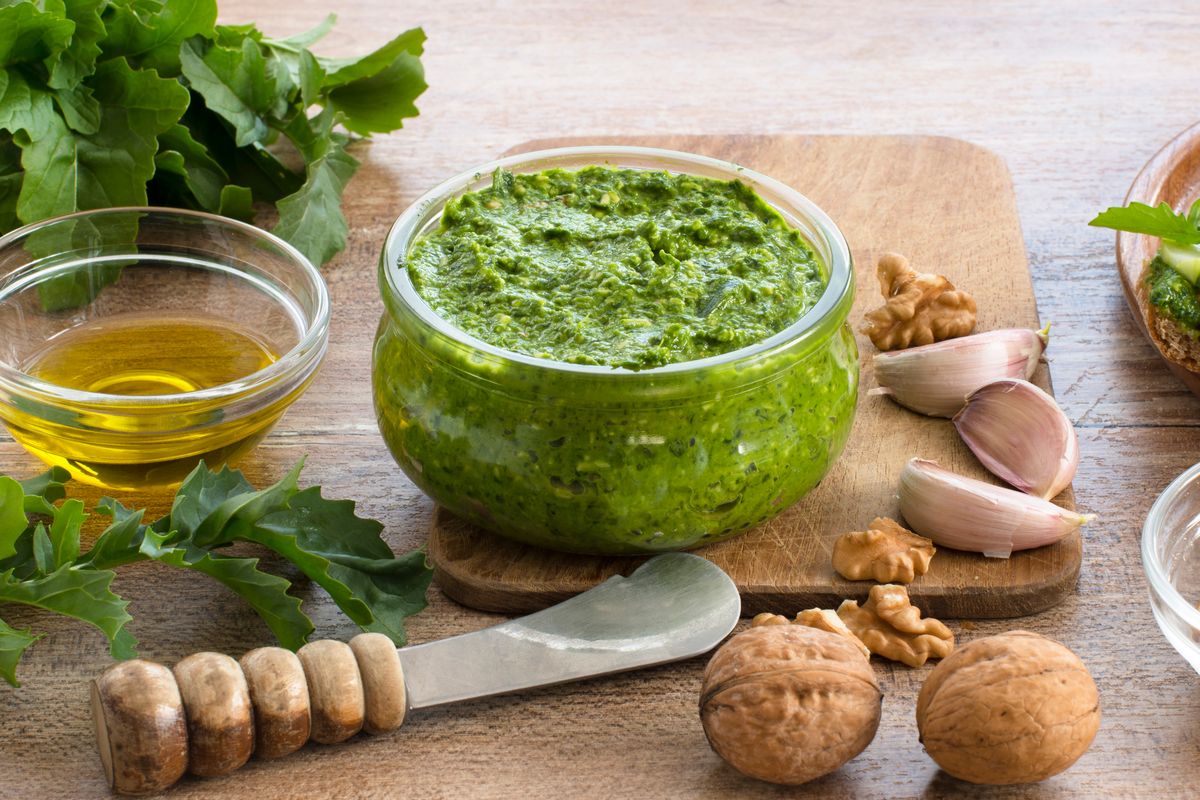 Preparing the recipe for rocket and walnut pesto
Start preparing the rocket and walnut sauce washing the rocket and drying it well with a cloth.
Put the rocket inside a kitchen mixer and add the salt, walnuts and oil. Activate the medium speed robots.
Work it according to your taste: a little and in jerks if you like it coarser, at medium and constant speed if you prefer a creamy texture.
After a few minutes, your vegan rocket and walnut pesto will be ready to taste.
How to prepare light pasta with rocket and walnut pesto
If you want to season a good pasta with freshly prepared pesto, proceed as follows.
Cook the pasta shape you like best. As soon as it is cooked, drain the pasta and set aside a cup of cooking water.
Season the pasta with the amount of pesto you prefer, choosing between leaving it lightly seasoned or abounding with the sauce.
Se it feels a bit dry add a couple of tablespoons of cooking water that you set aside earlier and mix everything well to make the pasta very creamy.
Before serving, complete with a drizzle of extra virgin olive oil some small walnut kernels to give a little crunchiness to the dish.
If you are not vegan, you can add the grated cheese both when preparing the pesto and when you mix everything in the pot. In any case, the dish should be enjoyed piping hot.
storage
This quick gravy can be preserved in different ways. First of all, it can be stored in the refrigerator in airtight containers for up to 5 days. Alternatively, it can be frozen in small portions to always have a tasty sauce ready with which to prepare pasta or delicious bruschetta. Finally, if you want to have an original gift idea, you can keep the pesto longer in sterilized jars. Remember, in this case, to cover the surface with plenty of oil.
Also try the Genoese pesto recipe!
Sign up for the Primo Chef newsletter to find out about new recipes, advice and news. Before anyone else.

Reserved reproduction © 2023 – PC

#quick #easy #recipe