the quick recipe to cook a light side dish
Let's find out together the recipe for sautéed zucchini, to prepare a very quick and very simple side dish!
Zucchini are a fresh and tasty side dish, a must on our tables all year round, but especially with the arrival of summer. A real tricolor classic, the most loved recipe of all, is that of sautéed courgettes: you will be surprised, but they are also really simple and fast to realize!
Trifolate simply means that the courgettes are cooked in a pan and season with parsley. So, all you have to do is wash and clean the vegetables, stew them in a pan and season them. The best part? It's also a light side dish! What are you waiting for? Let's make them now!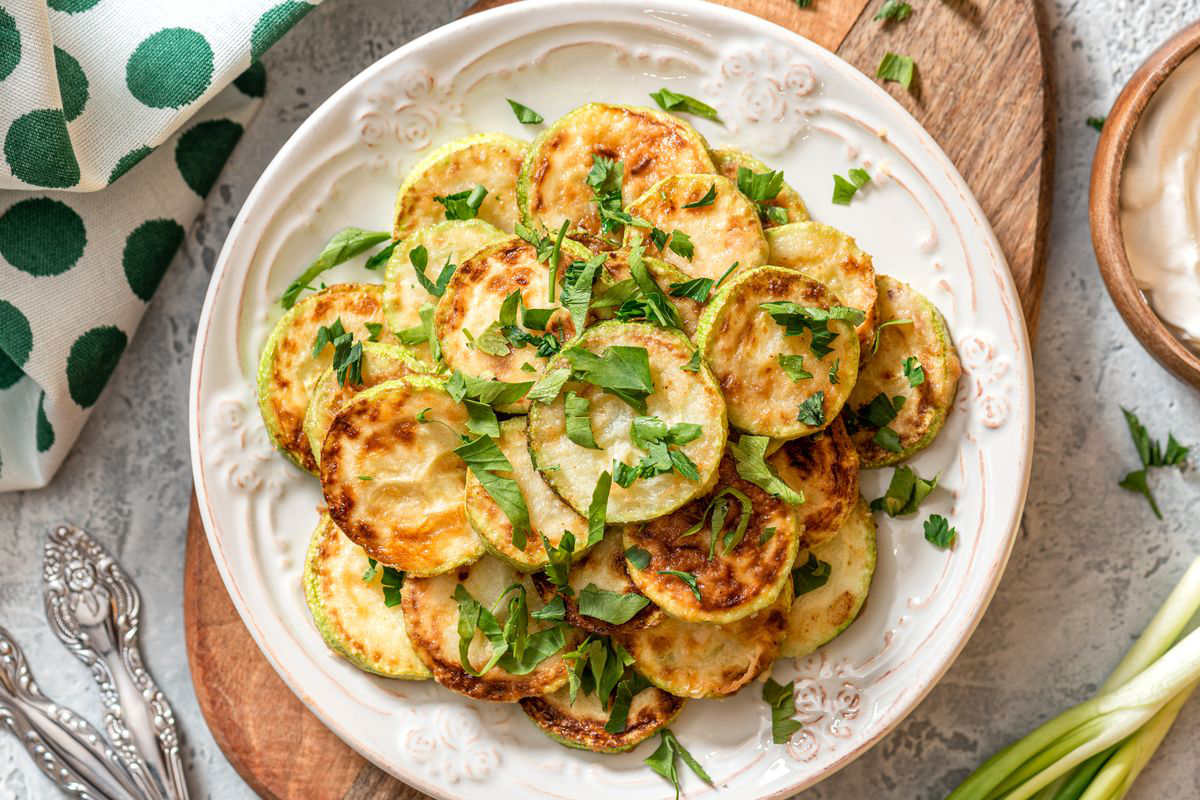 How to cook sautéed courgettes
Wash the courgettes and remove the two ends. Cut the courgettes into rings, of the about three millimeters thick: we recommend a medium thickness so that cooking is faster.
Put a pan with the EVO oil and the peeled and crushed garlic clove over medium heat: fry for a few minutes, turning it a couple of times.
Then add the courgettes to the pan and cook them for ten minutes, turning them occasionally. Mix with delicacy with a wooden spoon or a spatula, so they don't fall apart.
Our advice is don't overcook them, so that they retain all their flavor and all their internal juices. The courgettes should be lightly browned, but still quite firm: if you cook them too much they will almost boil and fall apart. If they release too much water during cooking, turn up the heat so that evaporate quickly: in this way you reduce the risk that they boil in their own juices.
Only at the end salt and pepper.
Turn off the heat and finish the preparation by sprinkling with the parsley leaves coarsely chopped. Divide into plates and serve your light sautéed zucchini on the table.
If you prefer, you can replace the pepper with some fresh chilli, adding it in the preparation from the beginning, together with the garlic clove. The seasoning, in fact, is optional, you can also try adding a little paprika (sweet or strong) to make the taste more oriental and decrease the amount of total salt. They will be perfect in any case as a side dish for a light dinner!
Zucchini side dishes: recipes and other ideas
After seeing the zucchini side dish for excellence We also want to offer you some variations. Of course, they are all slightly more elaborate but also really tasty recipes:
Fried zucchini. In this case, forget the diet in favor of taste and give this preparation a chance very simple. Make a batter with eggs and flour and cook in hot oil until golden brown: they will be a huge success!
Sandy zucchini. For this variant, just add a sprinkling of breadcrumbs to the sautéed zucchini recipe: it will add texture and a very interesting flavor.
Zucchini Chips. For the light version we are inspired by baked zucchini: for an effect as similar as possible to the classic potato snack, cut them into rounds, season and bake in preheated oven at 180°C. Keep an eye on them, turn them over and when they are golden they are ready. To make them tastier, instead, all you have to do is fry them.
Then we have to offer you a variant of sautéed zucchini, made by adding tomato, onion and 1 egg. Before preparing them, first fry them as in the main recipe, then add a beaten egg and let it cook together with the vegetables. Finally unite about 200 g of tomato puree, lower the heat to a minimum and cook everything for about 10 minutes, adding water if necessary. Lastly complete with parsley and bring to the table. In addition to being a side dish, it can go perfectly into a substantial vegetarian second course.
Now that we've seen all secrets of this vegetable, how about trying our pan-fried zucchini?
storage
This zucchini recipe has a relatively long shelf life: keep them in the fridge in a sealed container for about 5 days. If after a few days of eating them you feel nauseous, know that you can also freeze them.
Alternatively, sautéed zucchini are also excellent seasoning for pasta. You just have to cook the pasta of your choice, drain it, and sauté it in the pan with the sautéed zucchini. If you like, you can also sprinkle with Parmesan. We recommend short pasta such as rigatoni or conchiglie.
For some variation even tastierfind out how to cook zucchini in so many different ways!
Sign up for the Primo Chef newsletter to find out about new recipes, advice and news. Before anyone else.

Reserved reproduction © 2023 – PC

#quick #recipe #cook #light #side #dish