The recipe for simple baked rice with gravy and stringy cheese
Here is the recipe for baked rice au gratin, a delicious dish that meets taste and simplicity: ideal to bring to the table for any occasion!
Imagine a rich, substantial, colorful and tasty dish: yes, that's it, stringy baked rice, a dish that resembles a flan and is really delightful. To make this dish you can actually use the ingredients you like best, but we have thought of something quick and immediate, perfect for reusing leftover rice from the day before and proposing it again in a totally new e captivating.
In this regard, a note must be made: if you use del already cooked rice what you have to do is prepare the sauce and then add it to the rice, while if you have to cook it you can directly cook it with the tomato sauce in a pot or boil it and drain it al dente!
Serve this rice also as a single dish during a lunch, or cut some small portions and enjoy it as a first course! Ready? So let's get to the stove and get to work!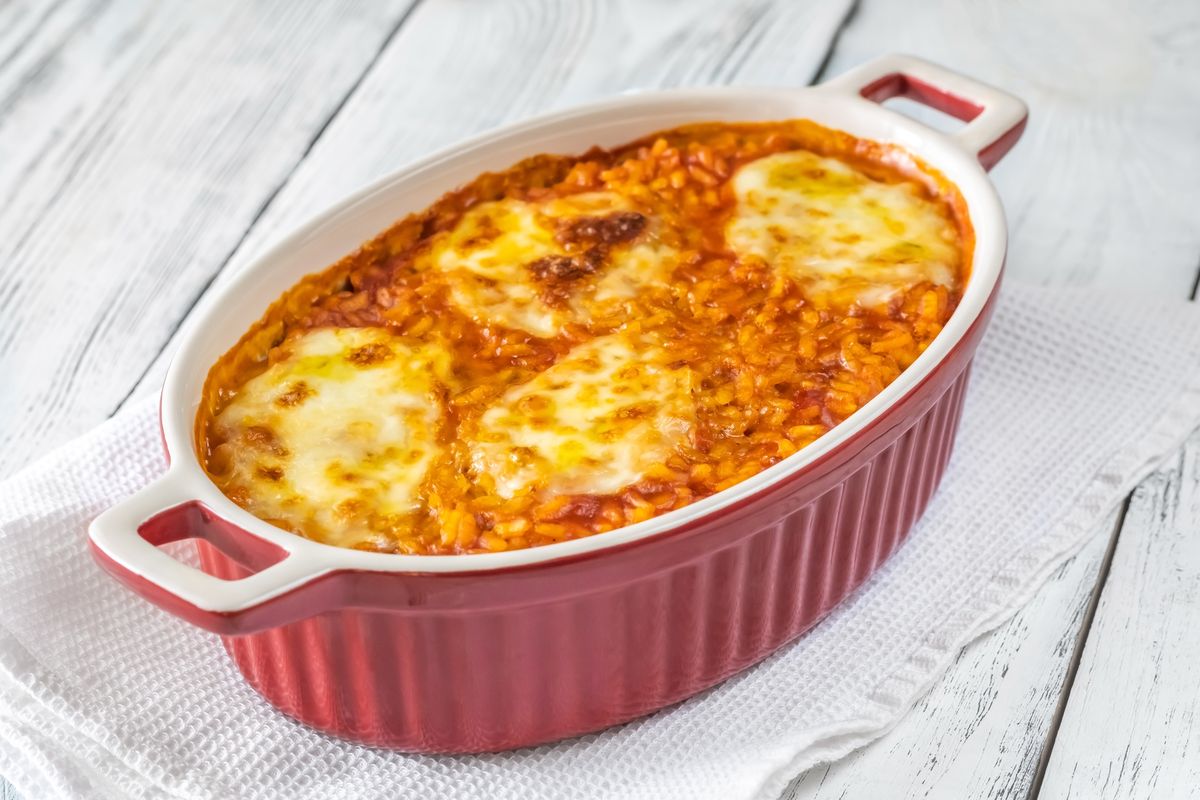 How to make baked rice
Take the onion, cut it finely and put it to fry in a saucepan with extra virgin olive oil.
When will withered pour the tomato, salt, pepper and also insert a few leaves of fresh basil and let it cook for about 30-40 minutes.
While the sauce is simmering, cut the mozzarella to taste and put it to drain so that it loses all the excess water and whey.
At this point it's the rice's turn: if it's already cooked, such as leftover boiled rice, add it after about 30 minutes (when the sauce is practically ready); if it is raw, on the other hand, dilute the tomato with a little water and cook it following the instructions packaging times.
When the tomato rice is cooked, then it's time for the cheese: put the diced mozzarella and the grated cheese, mix and then put it all in a baking dish.
Before going into the oven you can also finish with more cheese, two remaining slices of mozzarella and a basil leaf on the surface.
Cook at 220°C for approx 15 minutesuntil the surface is nice au gratin.
The dish is ready, enjoy your meal! If you don't want to cook the rice directly in the puree, here's one video recipe to prepare it with boiled rice:
Try all of ours too wonderful rice recipes!
storage
This recipe for baked rice with sauce and cheese is very good eaten immediately, but like lasagna it releases even more aromas the day after cooking. You can keep it in the fridge for 2-3 daysand reheat it if necessary by putting it back in the oven.
Sign up for the Primo Chef newsletter to find out about new recipes, advice and news. Before anyone else.

Reserved reproduction © 2023 – PC

#recipe #simple #baked #rice #gravy #stringy #cheese