the recipe for the first course
Pumpkin cannelloni: recipe for preparing a vegetarian first course with delicate autumn flavors thanks to the presence of pumpkin.
Pumpkin cannelloni are delicious and simple to prepare for a typical autumn lunch or dinner! For a faster realization I suggest you to use the fresh pasta ready, but if you have time you can prepare the fresh pasta with your hands. The cannelloni prepared following this recipe can be stored in the refrigerator in an airtight container 2 days, but I advise you to consume them immediately after preparation. Here's the recipe!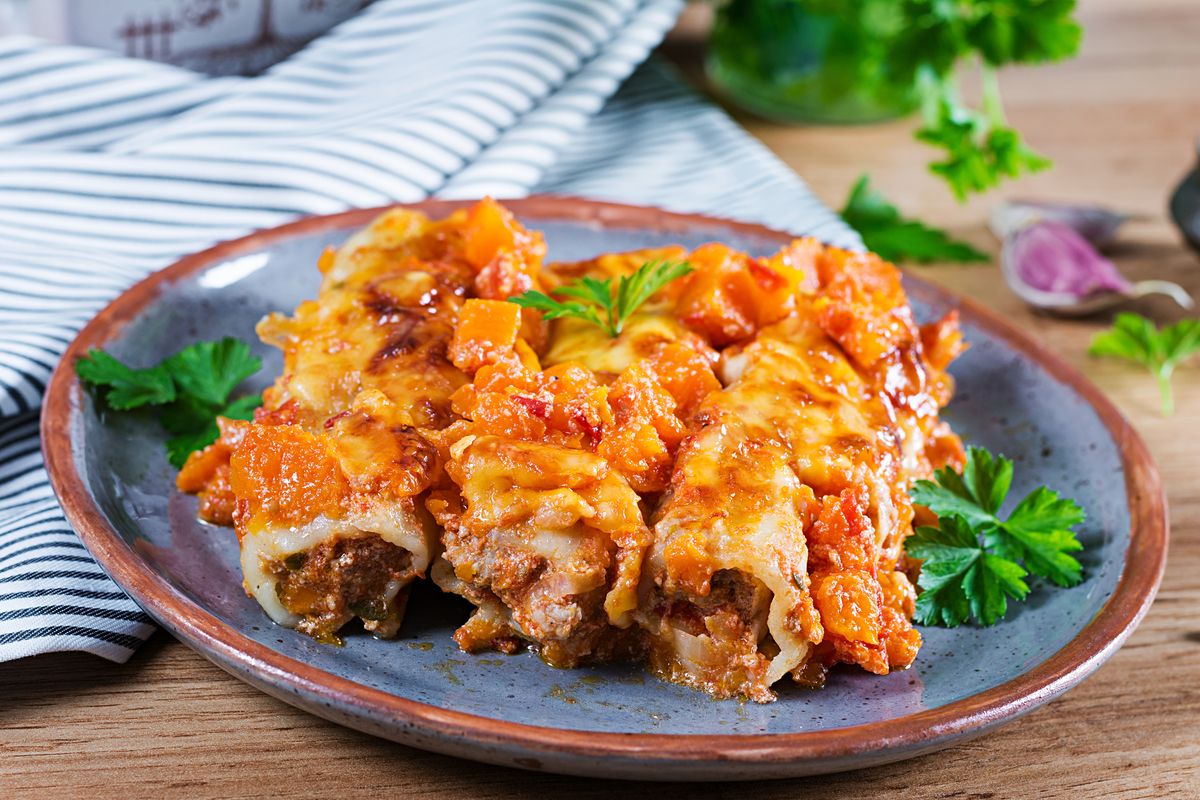 Preparation of baked pumpkin cannelloni
To prepare pumpkin cannelloni, start by preparing the filling: cut the pumpkin into large wedges, then peel it and remove the seeds and internal filaments.
Transfer the pumpkin to a baking tray lined with baking paper and bake in a preheated oven 180°c for 30 minutes.
When cooked, remove the vegetable from the oven and mash it in order to obtain a pure homogeneous (except for a small part that you will cut into cubes).
Brown the onions in a pan, peel and thinly sliced, with butter. When the onions have softened, add the pumpkin puree and leave to infuse for a few minutes.
Stuff the egg pasta with the pumpkin puree (keeping a few spoonfuls aside), roll up to form the cannelloni and transfer them to a buttered baking dish.
Season with knobs of butter, grated Parmesan, sage leaves and complete with the remainder of the puree and the diced pumpkin.
Bake in preheated oven 200°C for 20 minutes, remove from the oven and serve immediately. Enjoy your meal!
Alternatively, we suggest you try the vegetarian cannelloni or the pumpkin lasagna.
storage
You can keep this first dish for 2-3 days in the fridge, covered with cling film.
Sign up for the Primo Chef newsletter to find out about new recipes, advice and news. Before anyone else.

Reserved reproduction © 2023 – PC

#recipe