the recipe of the unique delicious dish
Here is the easy and tasty recipe for a pasta timbale to this. With minced meat and much more, it is a truly inevitable dish.
We have proposed and enjoyed it in various ways, but today we focus on a preparation that is as simple as it is delicious. We are talking about the timbale of crusted pasta, which involves the creation of a shortcrust pastry shell. The tastiest part, though – and you know it very well – is the inside. The filling is made with macaroni, carne, cream, peas and much more. A sort of substantial and delicious mixture is created, which constitutes a real and proper single delicious dish, because it is so substantial that you won't ask for anything else!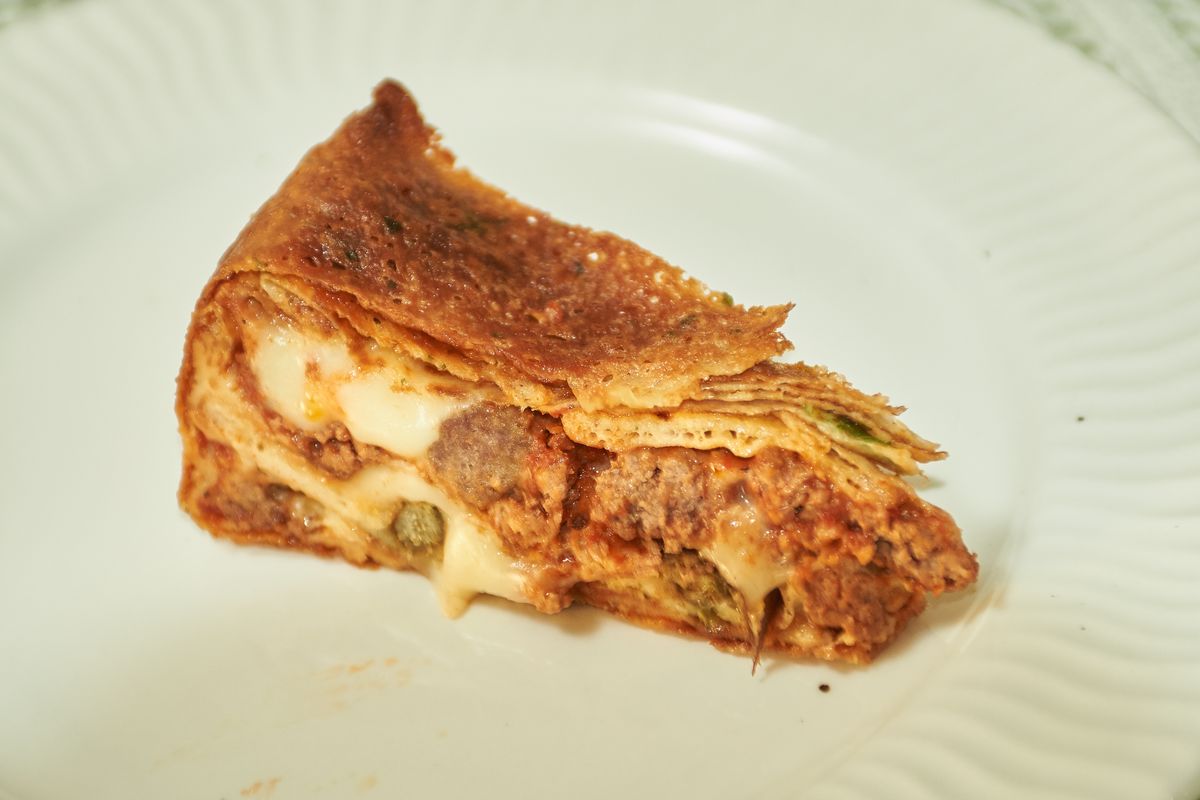 Preparing the recipe for the pasta timbale
First, take a pan and pour 3 tablespoons of oil into it.
Remove the skin from the sausage e crumble it dropping it into the pan; let it cook on a low flame for a few minutes.
At this point, add the peas and the broth. Season with salt and pepper and cook for approx 30 minutes on moderate heat; stir often, to prevent the meat from sticking together.
Meanwhile, in another pan, pour the chopped onion and another 3 tablespoons of oil.
Fry for 2 minutes, then add the tomato sauce. You do cook for 15-20 minutes.
At the same time, you can boil the pasta. Bring a pot full of salted water to the boil and dip the pasta into it.
Once it is cooked al dente, you can drain it.
Transfer the sauce to the pan with the other dressing (the sausage and peas). Stir, then add the pasta.
Cut into slices mozzarella. Then, you can unroll the two rolls of shortcrust pastry.
Use one to line the inside of a circular mold (diameter of 28 cms) e prick the bottom with a fork.
Inside, alternate layers of pasta with the sauce and others of slices of mozzarella, until you run out of ingredients.
Sprinkle with lots of grated cheese and cover with the second disk of brisè.
With a small knife, remove the excess dough and seal the edges. Create a small hole in the centerto allow the steam to escape.
In a small bowl, whisk one egg yolk into the cream; brush this mixture on the surface of the macaroni timbale.
Cook in a static oven for 45 minutes at 180°C. When it's ready, take it out and let it cool.
storage
Once you have seen how to prepare the crusted pasta timbale, you will no longer be able to give up this goodness. If it's left over, you can keep it in the fridge for 2 daysenclosed in a container.
Don't miss the Big Night timbale recipe, made in honor of Italian cuisine!
Sign up for the Primo Chef newsletter to find out about new recipes, advice and news. Before anyone else.

Reserved reproduction © 2022 – PC

#recipe #unique #delicious #dish