Thick five-minute gooseberry jam – a simple and tasty recipe, how to cook step by step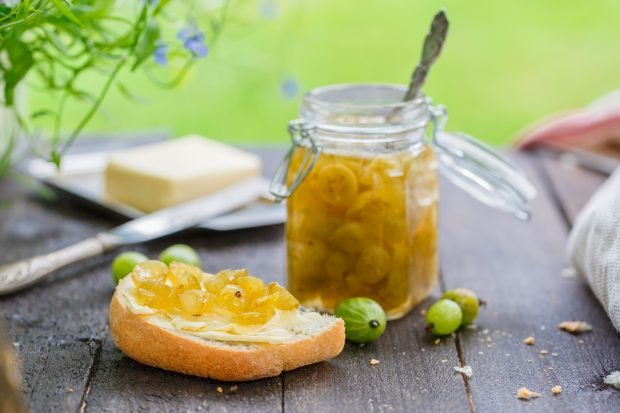 Five-minute gooseberry jam – tasty, fragrant, viscous, as useful as possible. What's the secret? In a short three-time cooking. Choose slightly unripe fruits with elastic skin so that the berries do not boil during cooking.
Step by step cooking recipe
Sort the gooseberries, remove the tails, rinse the berries under running water, put them in a colander.
Place the berries in a bowl for cooking, pour in half the sugar, shake so that the sugar is evenly distributed, leave to infuse for 2-3 hours.
Then add the remaining sugar, pour in water and heat over low heat until the sugar dissolves. Then increase the fire and bring to a boil, removing the resulting foam. Gently stirring, boil the jam for 5 minutes. Remove from heat, cover the bowl and leave to infuse for several hours.
Put the workpiece on the fire again, and gradually increasing the heat, boil for 5 minutes after boiling. Don't forget to skim off the foam! Cover the jam bowl and let it sit at room temperature overnight.
Repeat simmering again at minimum heat for 5 minutes after boiling.
Pour hot jam into pre-sterilized jars, seal tightly, wrap and leave to cool. Then move the jam to a cool dark place.
#Thick #fiveminute #gooseberry #jam #simple #tasty #recipe #cook #step #step