Tiramisu with eggs and mascarpone recipe with photos step by step and video
Step 1: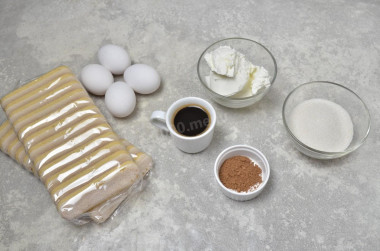 How to make tiramisu with eggs and mascarpone? Prepare food. You can bake Savoyardi cookies yourself, a simple and affordable recipe is on our website. Eggs take the freshest, as they will not be subjected to heat treatment. Choose high-quality mascarpone, the taste of the whole dessert will depend on it.
Step 2: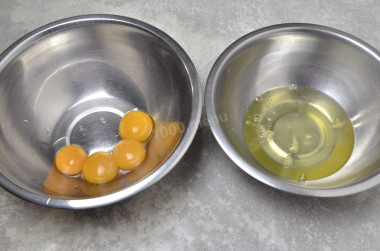 Wash the eggs very well and pat dry. Don't skip this step as they are used raw. Divide eggs into whites and yolks. Do this very carefully, even a small amount of yolk will not allow the whites to whip. I specifically use a glass to separate one protein at a time. In case of failure, the entire mass of proteins will not deteriorate.
Step 3: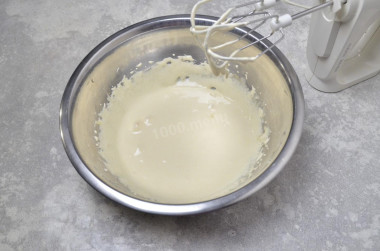 Pour sugar into the yolks. You can reduce its amount to your liking. Beat the yolks with sugar with a mixer until fluffy light mass.
Step 4: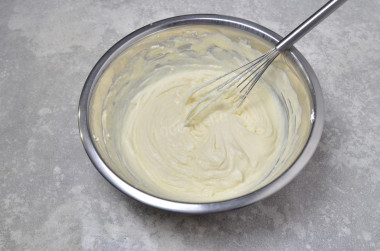 Add the mascarpone to the yolks and fold in with a hand whisk. You should get a fairly thick homogeneous mass.
Step 5: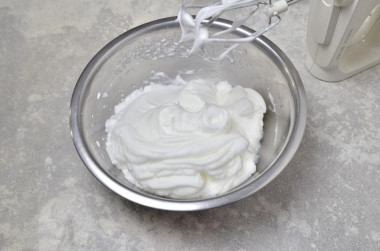 Pour a pinch of salt into the egg whites – it will help the egg whites whip faster. Beat egg whites with a mixer until stiff peaks.
Step 6: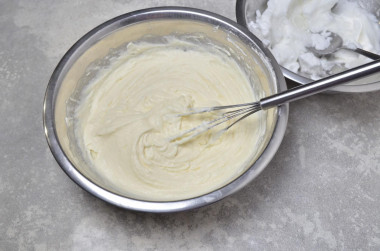 In portions, add whipped proteins to the cheese mass, gently mixing it with a whisk. If the cream starts to get too thin, then you can stop and not add all the proteins. I used about 3 squirrels.
Step 7: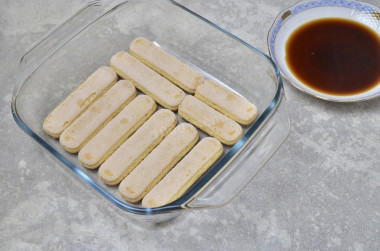 Take a deep shape, square or rectangular. Pour the coffee into a rimmed bowl. You can use both boiled and instant coffee. He must be strong. You can add alcohol to it – cognac, rum or liquor. I cook without it, as the dessert will be eaten by children. Dip the cookie sticks in the coffee for a second – it soaks very quickly. Lay the cookies in one layer in the form, where the whole stick does not fit, break it.
Step 8: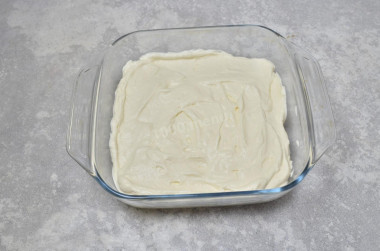 Spread half of the cream evenly over the cookies.
Step 9: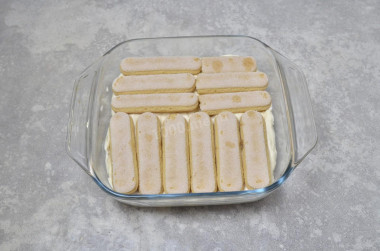 Next, lay out the second half of the cookies. Try to put the sticks in the same order as below, then the cut of the dessert will be nice and even.
Step 10: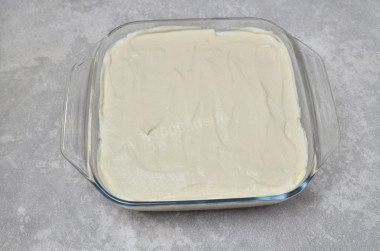 Spread the rest of the cream on top. Put the tiramisu in the refrigerator for a couple of hours to soak.
Step 11: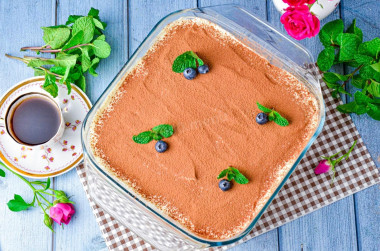 Before serving, sprinkle the dessert on top with cocoa through a strainer. Serve to the table. Enjoy your meal!
#Tiramisu #eggs #mascarpone #recipe #photos #step #step #video