Tomatoes in jelly for the winter – a simple and tasty recipe, how to cook step by step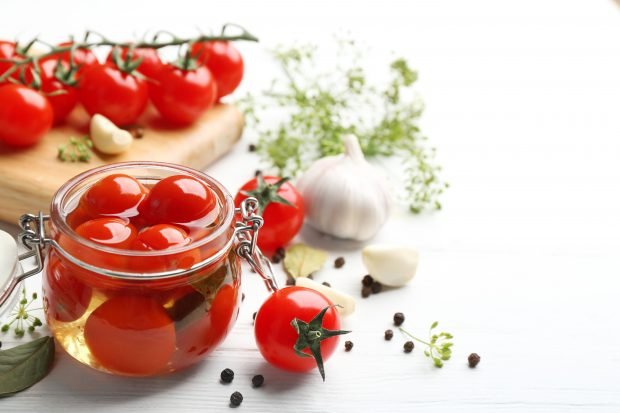 New Africa, stock.adobe.com
This recipe is interesting because when cooled, the marinade solidifies and turns into a savory, sweet and sour jelly, while the tomatoes retain elasticity and density. Such a blank will surprise your guests during a festive feast. Prepare for sure!
Step by step cooking recipe
Gelatin pour 100 ml of cold boiled water and leave to swell for 30 minutes.
Rinse the tomatoes, cut in half. Peel the onion and cut into rings.
Fill pre-sterilized jars with tomatoes (place cut side down), alternating with onion rings.
For the marinade, combine 900 ml of water, salt and sugar. Add bay leaf and peppercorns, mix everything, bring to a boil and boil the marinade over medium heat for 1-2 minutes.
Remove the marinade from the heat, add the gelatin and vinegar, mix well so that the gelatin is completely dispersed.
Pour the hot marinade over the tomatoes in jars to the top. Cover the jars with sterile lids and send them to be sterilized in a pot of boiling water (the water in the pot should reach "up to the shoulders" of the jars). Sterilization time for 1 liter jars is 15 minutes from the moment the water boils in the pan.
After sterilization, roll up the jars, turn upside down, wrap and leave to cool completely. Store tomatoes in jelly in a cool, dark place. The day before serving, put the jar of tomatoes in the refrigerator so that the marinade turns into jelly.
#Tomatoes #jelly #winter #simple #tasty #recipe #cook #step #step