Tomatoes with garlic for the winter – a simple and tasty recipe, how to cook step by step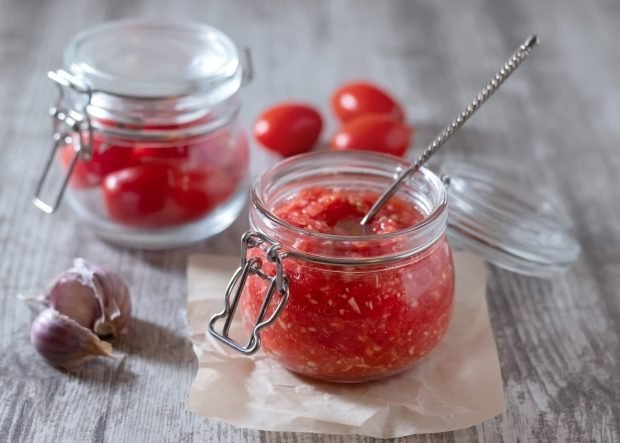 elenabarfoto, stock.adobe.com
Tomatoes with garlic for the winter are a homemade alternative to store-bought sauces and tomato paste. The recipe contains only fresh tomatoes, garlic and spices. Natural, fragrant mashed tomatoes can be added to first courses, gravies and all kinds of sauces.
Step by step cooking recipe
Rinse the tomatoes, make a cross-shaped incision on each, place in boiling water for 2-3 minutes, and then dip in cold water. Peel the skin off the tomatoes.
Cut the peeled tomatoes arbitrarily, then pass through a meat grinder.
Place the tomato mass in a cooking pot, salt, add sugar, peppercorns and bay leaf. Mix well, bring to a boil and boil over medium heat, stirring, for 15-20 minutes.
A couple of minutes before cooking, add chopped garlic, mix.
Pour the boiling tomato mass into pre-sterilized jars, seal tightly, turn upside down and leave to cool completely. Store the cooled workpiece in a cool dark place.
#Tomatoes #garlic #winter #simple #tasty #recipe #cook #step #step