Turkey with bulgur and tomato sauce recipe with photo step by step
Step 1: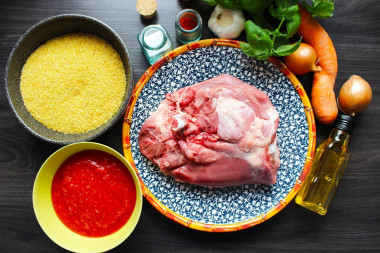 How to make a turkey with bulgur and tomato sauce? Prepare all necessary products. I have crushed bulgur and turkey thigh. If you have frozen meat, then remove it first from the freezer and leave it at room temperature until completely thawed.
Step 2: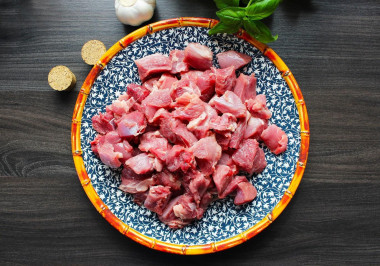 Separate the meat from the bone and remove the skin. Cut the turkey into small even-sized pieces.
Step 3: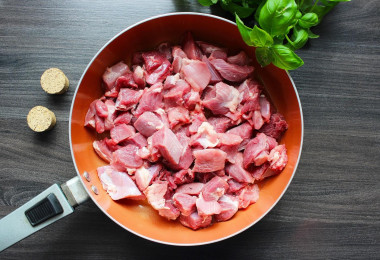 Heat vegetable or olive oil in a skillet. Send the turkey to roast. Over high heat, stirring constantly, lightly fry the pieces of meat.
Step 4: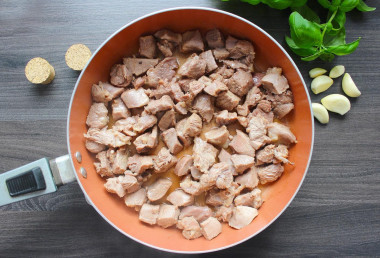 Reduce the heat to low, cover the pan with a lid and simmer the turkey for about 20 minutes. If necessary, add a little water (literally half a glass). I did not need this and the meat was stewed in its own juice.
Step 5: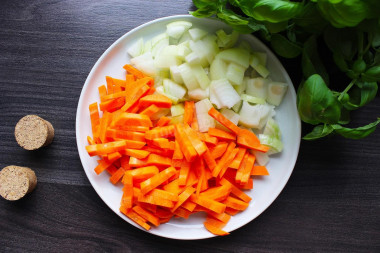 Peel carrots and onions, rinse, dry and chop not very finely.
Step 6: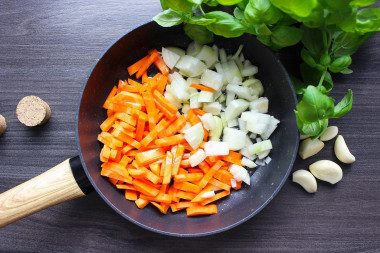 In a separate frying pan, heat vegetable oil without aroma and fry the onion and carrot until golden brown.
Step 7: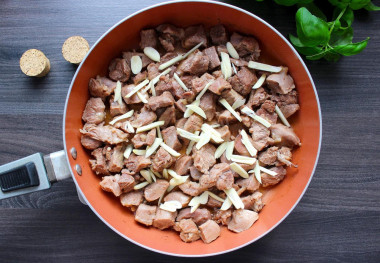 Peel the garlic and cut by hand into medium-sized pieces. Send the garlic to the pan with the meat.
Step 8: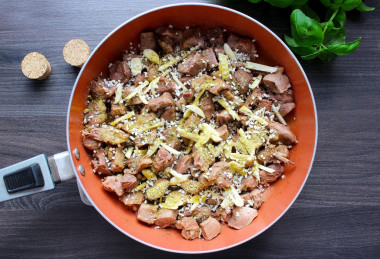 Then add your favorite spices. I used a ready-made seasoning mix for poultry, 0.5 tsp. dried onion and 0.5 tsp. zira. Stir, cover and simmer everything together for about 10 more minutes.
Step 9: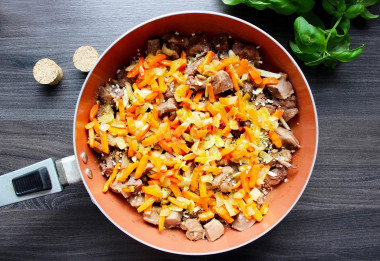 Add fried onions and carrots to the turkey.
Step 10: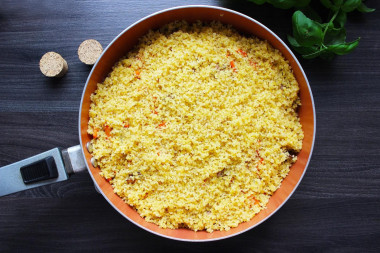 Pour in the bulgur, previously washed in cold water.
Step 11: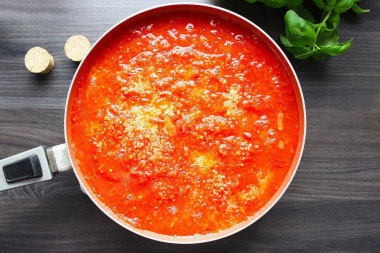 Next, pour in the tomato sauce or tomato juice. Salt to taste, mix everything and pour in hot water so that it covers the grits by about 1.5-2 fingers.
Step 12: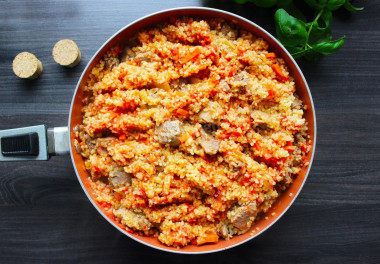 Cover the pan with a lid and leave until the bulgur is done (it will take 15 to 25 minutes depending on the size of the grains). If at the end of cooking there is still a small amount of water left in the pan, then open the lid, increase the flame of the stove and, stirring, leave until the excess liquid has evaporated.
Step 13: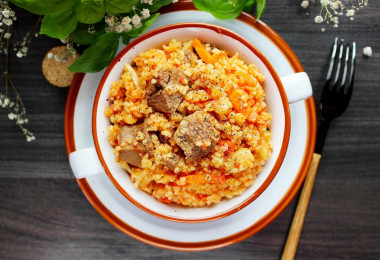 Serve hot.
#Turkey #bulgur #tomato #sauce #recipe #photo #step #step