Turkey with rice in a pan recipe with photo step by step
Step 1: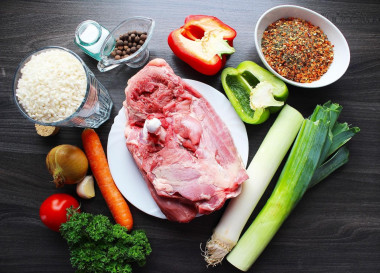 How to make a turkey with rice in a pan? Prepare all the items on the list. I used a turkey thigh for this recipe, you can use any part of the bird. A set of vegetables can be varied according to your taste. If you take a standard vegetable set such as onions and carrots, then the dish will still turn out to be very tasty and rich.
Step 2: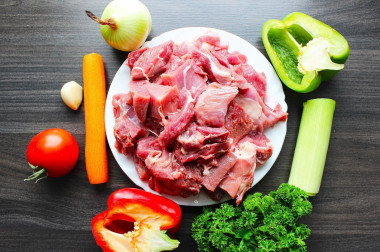 So, rinse and dry the turkey. Cut the bird into medium sized pieces. Peel onions, carrots and garlic. Cut the bell pepper into two parts, remove the core and seeds. To make the finished dish look brighter, I used peppers of different colors. Rinse all vegetables and pat dry with paper towels.
Step 3: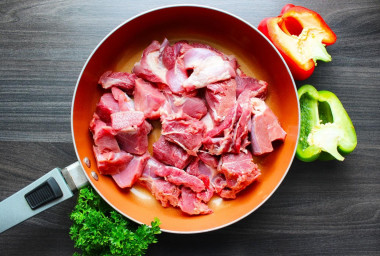 In a high-rimmed, heavy-bottomed frying pan, heat refined vegetable oil. Send the turkey to the pan. Reduce the flame to medium and, stirring occasionally, fry until half cooked. It took me about 20 minutes to do this.
Step 4: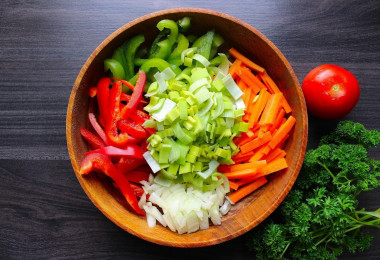 At this time, chop the vegetables. Choose your cutting method. I chopped carrots into cubes, peppers into feathers, and onions into small squares.
Step 5: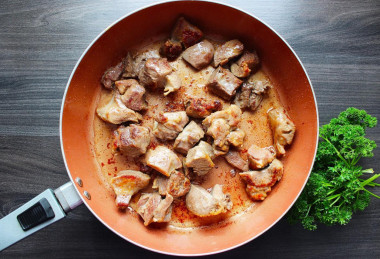 When the pieces of meat are browned, you can proceed to the next stage of cooking.
Step 6: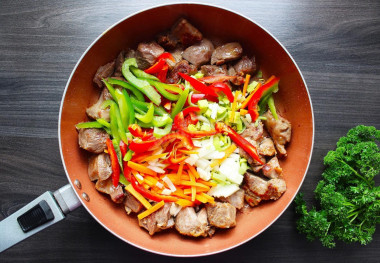 Add vegetables to the skillet.
Step 7: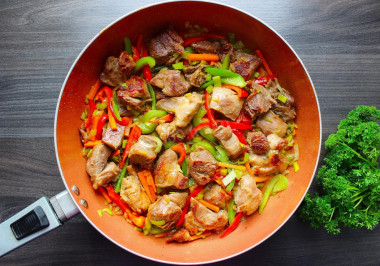 Mix everything thoroughly and fry for about five minutes.
Step 8: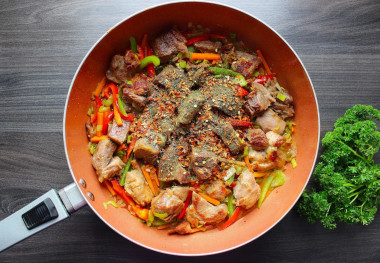 Add your favorite spices and salt to taste.
Step 9: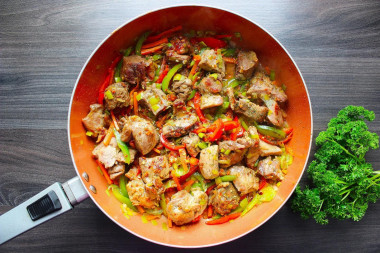 Pour in a small amount of water (literally 50-70 ml.) And mix everything. Cover the pan with a lid and simmer everything together for 10-15 minutes over low heat.
Step 10: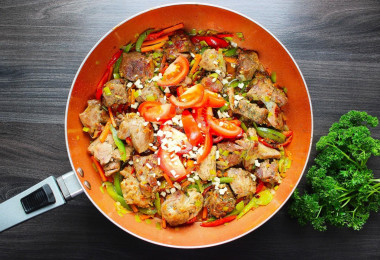 At the end, add tomatoes, cut into slices or cubes and garlic, passed through a press or finely chopped by hand.
Step 11: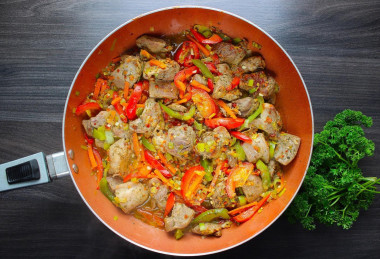 Simmer for another 2-3 minutes.
Step 12: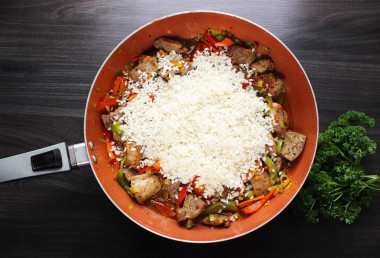 Rinse rice several times until clean water. Transfer to skillet and smooth out.
Step 13: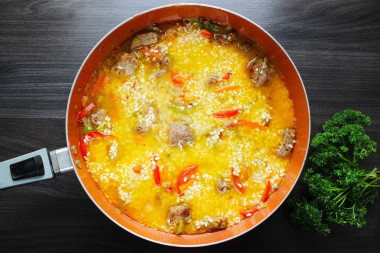 Pour in water so that it covers the rice by 1-1.5 fingers. Cover and simmer until the rice is done. It took me 15 minutes.
Step 14: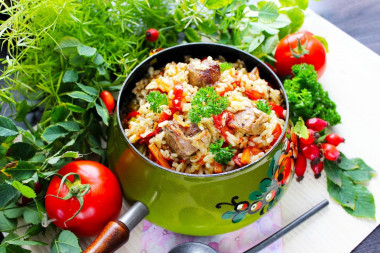 Garnish the finished dish with herbs and pepper as desired. Serve!
#Turkey #rice #pan #recipe #photo #step #step