Typical dishes of Trentino Alto Adige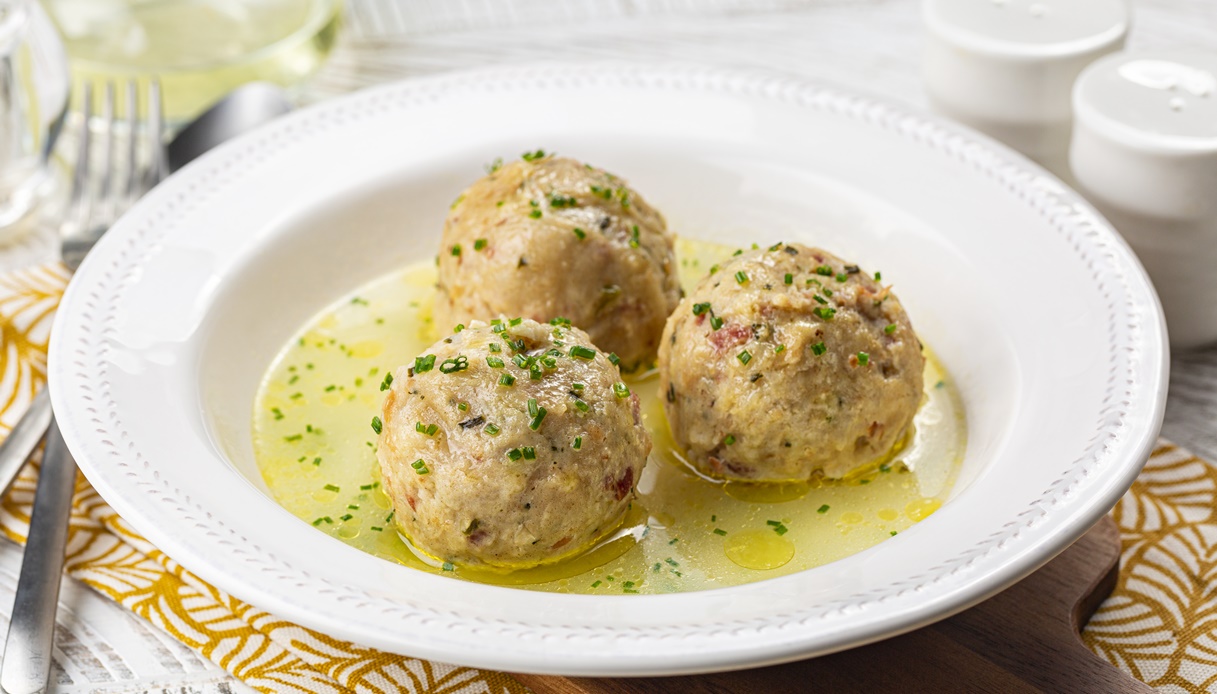 Queen of those who love winter sportsil Trentino Alto Adige it is also the region of those who are passionate about walks in the middle of nature and, when it's the period, gods Christmas markets. Ma what you eat in Trentino? What are the typical Tyrolean dishes? The cold winter temperatures have led to nutritious preparations with intense flavorsdo not typical products of Trentino also involve the world of vegetables.
Typical products of Trentino
Before finding out what the typical recipes of Trentino Alto Adige it is good to know its products, to understand what to bring from Trentino if you decide to take a nice food and wine trip.
Trentino apples
There are 8 apple varieties from Trentino that they can be proud of PGI brand (Protected Geographical Identification). What are the apples of South Tyrol called? Here they are:
Golden Delicious: extremely desserts with a point of acidity.
Red Delicious: sweet taste and almost total absence of acidity.
Gala: firm and grainy pulp, crunchy and very sweet.
Fuji: elegant taste, spicy hints and green fruits.
morning scent: juicy pulp, sweet and with slightly acidic hints, ideal for composed.
Renetta: savory and aromatic taste, acidulous hints e vaguely sweet.
Granny Smith: taste extremely acidic reminiscent of citrus and red fruits with hints of almond.
Pinova: very aromatic with a fine and crunchy pulp, sweet taste with a slight final astringency, reminiscent of banana and orange, but also herbaceous notes that can also recall honey.
Trentino speck
It is considered the symbol of Trentino cured meatslo speck It is one of typical products of Trento and was born thanks to the merger of two different storage methods: the seasoningtypical of the Mediterranean area, and thesmoking, particularly applied in Northern Europe. As with many cured meats, speck too was born from the need to store pork and in antiquity it was one of the only ways to acquire the source of lipids in the cold period for less well-off families. Over time, thanks to its unique taste, speck has become the protagonist of great occasions and still today, accompanied by crusty bread, it is Tyrolean snack par excellence.
The cheeses of Trentino Alto Adige
Another flagship of Trentino gastronomic products is the cheese. Malga cheeses (by malga we mean open summer grazing) are among the best in our country and have been much appreciated abroad for some time now. Between symbolic cheeses of the Trentino region there are:
Puzzone di Moena PDO: produced with raw milk, it is a washed rind cheese characteristic, decisive and intense flavour.
Cher de fascia or Cuor di Fassa: product with whole milk from Bruna and Grigio Alpina cowsstrong and intense flavour.
Primiero: also with washed rind, you can find it at different stages of maturation which determine its intensity on the palate.
Forms of the Val di Fiemme: semi-hard and thin rind, soft doughits summer flavor is very delicate.
Cavalese goat cheese: obtained from goat milk you can find it both fresh and seasoned. It is also a pit cheese and its flavor intensity is proportional to the maturing period, with strong herbaceous scents.
Stravecchio from Fiemme: aged for over a year, this cheese is sweet at first bite and then envelops the palate in a pleasant spicy note.
Trentingrana: perfect if enjoyed in flakes, this cheese is savory with herbaceous hints and floral with slight lactic hints.
Taken: full and enveloping flavour, slightly spicy and rich in floral and herbaceous scents.
Typical dishes of Trentino
First courses, second courses and desserts, i typical Trentino dishes they can cover an entire themed menu and, one thing's for sure, it's almost always about comfort food. They are simple recipes, often made with few ingredients, but which give the palate enveloping and unforgettable flavours. Here are the 10 Trentino recipes to try!
dumplings
It is one of the most famous and appreciated gnocchi in Italy. THE dumplings they prepare with recovery ingredientscome stale bread and scraps of ham or speck. They are good served in brothbut excellent if seasoned with melted butter, sage and a grating of seasoned cheese.
Apple strudel
It is one of most famous sweets of Italybut be careful: in the original version it is not prepared with the puff pastry, as many believe. The thin and crunchy dough that wraps the apples is in fact a special preparation that is used especially for it strudel. The classic version is, in fact, stuffed with apples and spicesbut they are also excellent savory versions with spinach and ricotta for example.
Strangolapreti in his thirties
Not to be confused with the Strozzapreti from Romagnathe strangolapreti in his thirties they are more reminiscent, if only in their form, of the Tuscan gnudi. They are prepared with spinach and stale bread and are simply topped with butter and cheese.
Spatulas
They are considered as a variant of the Tyrolean dumplings and are prepared with a mixture of flour and spinach. On some occasions you will find them white, a feature that denotes the absence of spinach in the dough. The brushes traditionally seasoned with butter, cream and strips of speck, but you can also try them with tomato sauce or white meat sauce.
Potato pies
Also called tortel di patate and more simply potato cake, this recipe is a delight. In Trentino it is prepared in a single portion or, in the case of potato cakes, in single portion format. A must try!
Polenta and sauerkraut
Who says mountain says polenta! There polenta with sauerkrauto polenta from the head in the Tyrolean dialect form, it is the emblem of high-altitude gastronomy.
tents
Between typical dishes of Bolzano it's good to try it camping. It is a fruity and decorated sweet bread suitable more for a snack than for a meal.
Salty meat
It is classified in the typical cured meats, but the salty meat it deserves an exceptional place in the list of Trentino recipes. The process of carne salada, which is a size of the beef or veal, is very long and careful. The meat, once matured, is massaged with salt and spices at regular intervals so that all the flavors flavor the pulp. It is then served very thinly sliced, like carpaccio, and lightly seasoned. It is served with spontaneous high altitude salad, but also with potatoes or mashed potato.
Barley soup
The Trentino barley soupalso called barley soup, is a traditional preparation to be eaten on particularly cold days. It is prepared with barley, vegetables and speck and is served more or less soupy.
Strabo
If you have been to Trentino at least once you will certainly have seen the squint, the typical Tyrolean pancakes. If this name doesn't tell you anything, it's because they are called in so many different ways: strauben, straboli, strauli e fortress.

#Typical #dishes #Trentino #Alto #Adige