Watermelon peel jam – a simple and delicious recipe, how to cook step by step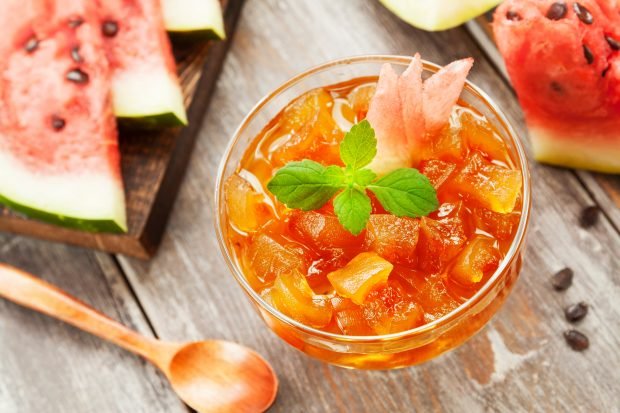 Trying this unusual delicacy, you do not immediately understand what it is made of. Watermelon peel jam is tender, moderately sweet, of beautiful color and texture. In the midst of watermelon season, don't rush to throw away the rinds! Surprise your loved ones with an original blank.
Step by step cooking recipe
Prepare watermelon rinds. With a sharp knife or vegetable peeler, cut off the hard striped part – we won't need it. Cut the white layer (what is between the watermelon pulp and the directly striped peel) into large cubes.
Place the cubes in a cooking bowl, sprinkle with sugar and, stirring, bring to a boil. Remove the workpiece from the heat, cover with a towel and set aside for a day.
Then bring the workpiece to a boil again and remove from heat. Set the bowl aside for 12 hours. Watermelon cubes will gradually become transparent, and the jam will begin to thicken. Repeat the procedure 2-3 more times (it is important not to boil the workpiece, but only bring it to a boil, removing the foam!).
Remove the zest from the orange and squeeze out the juice.
Add the orange zest and juice to the bowl of jam, stir and simmer for 5 minutes after boiling.
Pack hot jam in small sterile jars, seal tightly and cool.
#Watermelon #peel #jam #simple #delicious #recipe #cook #step #step