What is yuzu: curiosity, taste and properties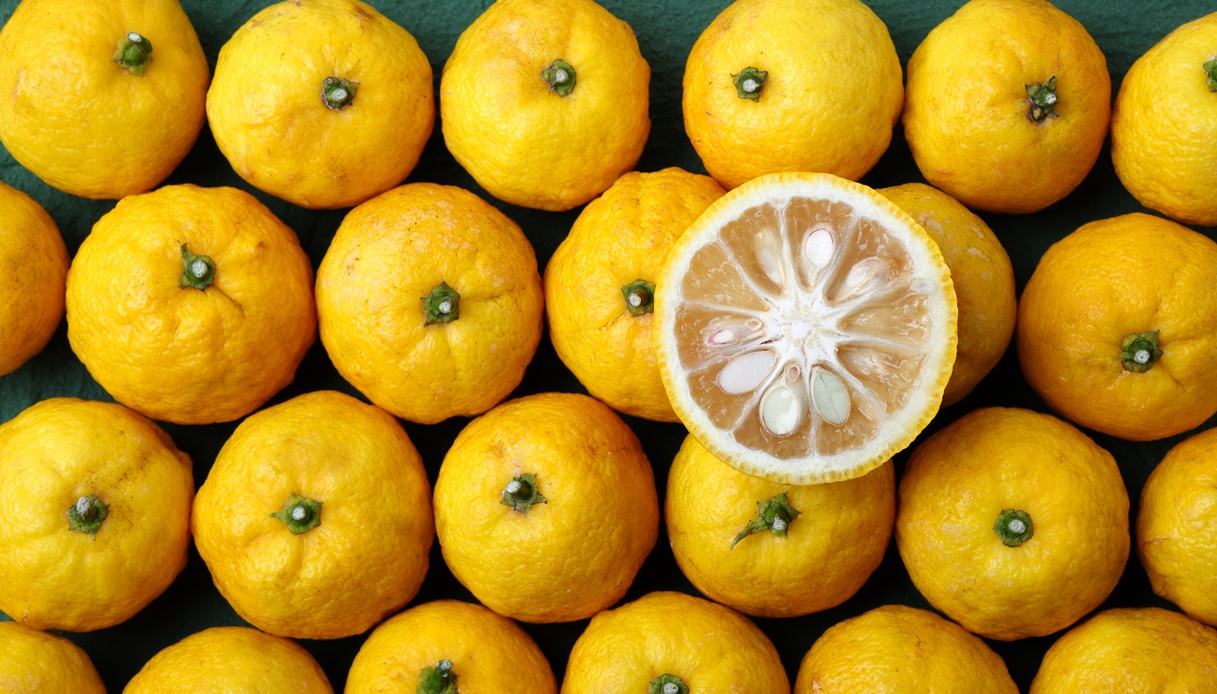 Between super food which you will hear a lot about in the coming months, there is certainly it yuzuand citrus fruit which comes directly from Japan. The Wakayama provincein Japan, is well known for its citrus production and derivative preparations including the yuzu juice which is prepared and sold without the addition of preservatives, dyes and additives in order not to lose its notes beneficial properties. Ma che gusto ha lo yuzu? Let's find out all about this wonderful fruit!
What is yuzu?
It is precisely a citrus native to East Asia. In reality, yuzu is the fruit of a cross obtained between the wild Chinese mandarin and an Asian lemon. Today, Japan is the world's largest producer of yuzu. The yuzu plant is hardy and likes to grow near streams. Unlike almost all other citrus fruits, the yuzu is able to survive very cold temperatures and in fact its fruits reach optimal ripeness in winter between October and the end of December. Ripe yuzu have a bumpy, bright yellow rind, while the flesh is light yellow. This citrus fruit is difficult to squeeze precisely because the pulp is particularly resistant and contains many seeds.
Che gusto ha lo yuzu?
It is a fruit famous for its intense and persistent aroma. Its aroma is intense and its flavor is sweet and delicate. It vaguely recalls lime, mandarin and grapefruit with a very slight pleasantly bitter note on the finish. Its aromatic notes are fresh and in the mouth it is particularly refined.
Where to buy yuzu and how much it costs
Finding yuzu in Italy is still quite rare, however you can find it in the Asian food shops and in well-stocked markets. The weight of each yuzu is around 100 grams, the price is quite high precisely because for now it is only grown in Japan and is around 5 euros per hectogram. You can more easily find yuzu juice and other yuzu-based preparations in Asian grocery stores.
Properties of yuzu
It may be because it is to all intents and purposes a citrus fruit or because it is grown on one of the most pristine islands of the Japanese archipelago, but yuzu is a source of great benefits for the body. Chief among them is the high content of Vitamin C and polyphenols. Yuzu is also rich in mineral salts including iron, phosphorus, magnesium, calcium, selenium, potassium, copper and zinc. What are the benefits of yuzu? Strengthens the immune system and protects against flu and colds of the cold season. It has a powerful anti-inflammatory action and fights free radicals. Hers are excellent digestive and soothing properties in the field of aromatherapy as for oranges. It also improves blood circulation and has significant benefits for the cardiovascular system.
How to eat yuzu
As already mentioned you can find it in the form of juice. It is difficult to find it the protagonist of a recipe, especially far from its land of origin. It is widely used in the preparation of salsa ponzua condiment for the sushiand in the making of drink e cocktail. Delicious are prepared with yuzu jams and its juice is excellent in combination with raw savory foods such as seafood, crustaceans and delicate meats.

#yuzu #curiosity #taste #properties