Wholemeal tagliatelle with artichoke and bacon cream: the very easy recipe
Wholemeal tagliatelle with artichoke cream and bacon: very quick to prepare, fragrant and appetizing, they are within the reach of even the less experienced.
The wholemeal tagliatelle with artichoke and bacon cream are incredibly good. Artichoke cream is very easy to find in any supermarket. It is usually used by spread on croutons, but it is also excellent for this very quick condiment to prepare when you have little time available. For his originality and sophistication, and also suitable for a dinner with guests. Obviously, you can also use non-wholemeal tagliatelle, but this condiment fits very well with pasta made with unrefined flours. The weight of the wholemeal tagliatelle indicated in this recipe is per della dry pasta. If you use the fresh one, you have to go up to 500 g.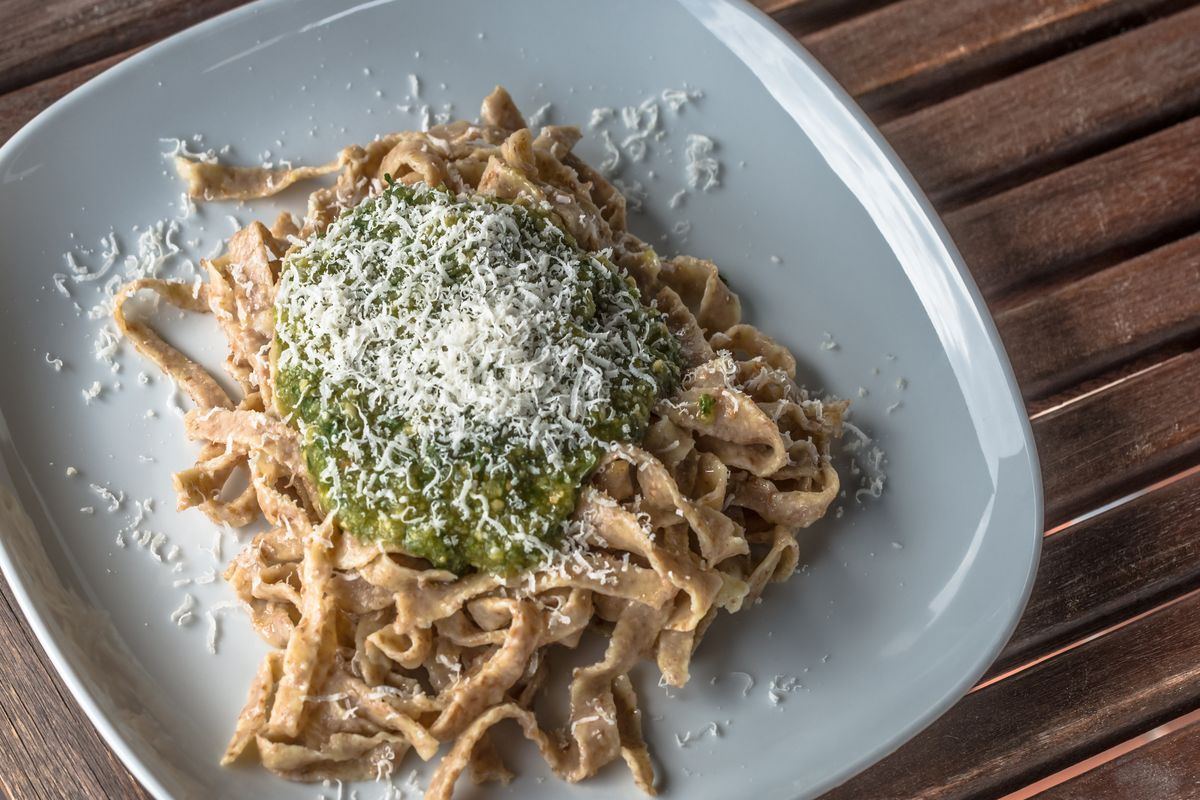 Preparation of wholemeal tagliatelle with artichoke cream and bacon
Start preparing the wholemeal tagliatelle with artichoke and bacon cream by putting a pot of water on the stove and bringing it to a boil. When it boils, salt it and throw away the wholemeal tagliatelle. Remember to turn them once in a while. Cooking times vary according to the thickness of the tagliatelle and whether it is fresh or dried, they are in any case very quick to cook, in the order of 5 minutes.
While the water is heating up, prepare the dressing. When buying, have the bacon cut into thin slices.
Place the slices on a cutting board and divide them into small strips.
Put a large non-stick pan on the heat and pour the teaspoon of oil. Bring to heat and add the bacon. The bacon doesn't need any added fat, but the very little oil helps it to heat up immediately and almost melt.
Brown the pancetta for a couple of minutes, then add the artichoke cream and 3-4 tablespoons of thepasta cooking water.
Heat the cream for another couple of minutes, then turn off the heat.
When the tagliatelle are cooked, drain them keeping a little of their cooking water. Pour them into the pan and sauté them with the sauce.
Add the grated Parmesan and, if necessary because it is too dry, also a few tablespoons of the pasta cooking water.
Sauté again and divide into plates. Serve immediately on the table.
Do you want to start from scratch? Here is the recipe for preparing wholemeal pasta at home!
storage
We recommend consume at the moment the first course of pasta.
Sign up for the Primo Chef newsletter to find out about new recipes, advice and news. Before anyone else.

Reserved reproduction © 2023 – PC

#Wholemeal #tagliatelle #artichoke #bacon #cream #easy #recipe