Winter salads: 15 recipes to try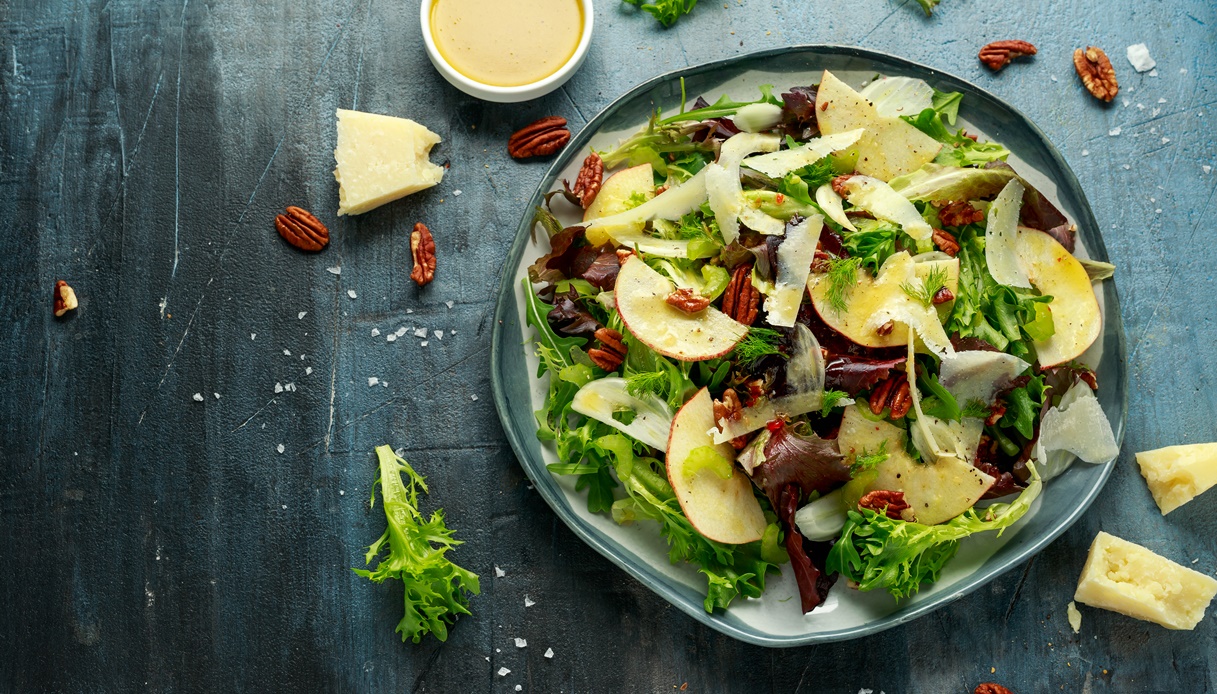 It is mistakenly thought that salads don't get along with the cold season. The reality is that the winter salads they are perfect as side dishes but also as light unique dishes, nutritious and tasty. The vegetables of the winter months are numerous and in combination with fruit and other ingredients such as seeds, fish, meat, roots e spicesthey can become delicious winter salads.
What are winter salads
When it comes to winter salads you will be spoiled for choice. Among the salads that populate the market stalls in winter there are:
chicory
indivie
valerian
radicchio
rocket
lettuce
Milan salad
insalata iceberg
How to build the perfect winter salad
Preparing a good winter salad is not prepared by opening a bag and pouring its contents into a plate. To prepare a perfect salad you will need to take into account some factors. Here you are the tricks for the perfect winter salad:
always expect one crunchy ingredient: in winter you can use carrots, dried fruit, seeds, onions, but also croutons or focaccia;
always add fruit: cold season fruit is perfect for enriching salads. Use pears, apples, citrus fruits and kiwis;
don't forget theprotein element: for a winter salad that is a single dish, don't forget to add meat, fish, cheese, eggs, tofu, legumes;
il seasoning very important: extra virgin olive oil, salt and vinegar are the basic ingredients for dressing a winter salad, but you can also play with balsamic vinegar, sesame oil for an oriental note, soy sauce instead of salt, apple cider vinegar and much more.
15 winter salads to try
Potato salad
Typical of Belgium, thepotato salad it is perfect for winter but also for the other seasons. It is prepared with boiled potatoes and a creamy and enveloping sauce based on mayonnaise. It is very simple to make and you can customize it by adding spices and aromatic herbs to taste.
Lentils with onion and oranges
To prepare this winter salad, it is advisable to learn how to peel the oranges so as to have juicy wedges without white filaments. In this salad you will find many different textures, a feature that makes it irresistible. try thelentil salad with onion and oranges and you will no longer be able to do without it.
Fennel and orange salad
A great classic of winter salads isfennel and orange salad. In this salad you will find soft and crunchy textures, sweet and acidic tastes, but also balsamic and savory. Try enriching it with Taggiasca olives for an even tastier variant.
Horseradish salad
Cabbage, beets and of course horseradish: these are the ingredients of this salad with intense flavors and captivating colours. The they believe, a root widely used in Trieste cuisine is slightly spicy and is perfect for giving a unique taste to winter salads. L'horseradish salad it is perfect as a single dish, but if you want to serve it as a side dish, do so to accompany dishes with a strong flavor to avoid it overpowering the tastes of the more delicate ingredients.
Pomegranate salad
L'walnut and pomegranate salad it is perfect as a winter salad. Pomegranate grains are sweet and sour and are therefore ideal for enhancing the more intense flavors of creamy dishes prepared with sauces. Furthermore, since the pomegranate is the fruit of good luck, you can also serve it in the dinners of important anniversaries and holidays.
Savoyard salad
L'Savoyard salad it is a real single dish based on eggs, cheese and bacon. Great for a informal lunch it is also perfect for the Sunday brunch. The eggs in this salad are poached, but if you're in a hurry and can't prepare them, you can serve them barzotte. To make a hard-boiled egg, bring water to the boil in a saucepan. Dip the egg in boiling water with the help of a spoon to prevent it from breaking and calculate 6-7 minutes depending on the size of the eggs.
Pumpkin Salad
The flavored pumpkin and the addition of the walnuts will make this one pumpkin salad perfect for warming up a winter evening with lots of taste. The creative touch? The addition of the cinnamon which will give an interesting sweet contrast and a unique aroma.
Salad all the pineapple
Chicken, mushrooms and asparagus are the main ingredients of this dish. The exotic touch and the hint of sweetness are given by the pineapple cut into cubes. L'salad and pineapple it is a single dish that is also perfect for an office lunch.
Scorzonera in salad
The scorzonera in salad it is perfect for having a really inviting crunchy dish. The scorzonera is cut into strips and blanched for a few minutes. To complete the dish there is beef, an element that makes this recipe complete and suitable as a second course for lunch or dinner.
Farmer's salad
Nell'farmer's salad, as the popular saying suggests, pears and cheese cannot be missing. This combination of sweet and savory is a winning combination. To complete the dish, for a crunchy note, you can add sunflower seeds or pumpkin seeds.
Thistle salad
Close relatives of artichokes, thistles are winter vegetables par excellence,cardoon salad it is a cuddle of taste to give warmth to cold winter evenings. Although it is a typically winter dish, the note of freshness is necessary to give balance to the recipe and this salad is served with very finely chopped parsley.
Venetian salad
Savoy cabbage and lard are the main ingredients ofVenetian salad. Ready in a few minutes and with just a few steps, this salad is a riot of inviting flavours. The advice is to add a teaspoon of honey to the sauce, a perfect ingredient when combined with lard.
Cauliflower salad
Among winter vegetables, cabbages are the most appreciated for both taste and nutritional properties. L'cauliflower saladsimile all'side salad, it is excellent both hot and warm but also at room temperature. To give an interesting twist to this recipe, you can add a few florets of raw cauliflower, alternating textures will be a winning move.
Salad with apples and endive
If you are looking for a winter salad full of crunch and taste, thesalad with apples and endive that's what's right for you. The Belgian endive is slightly bitter and this precious characteristic is enhanced and contrasted by the sweetness of the apples. A simple yet extremely elegant salad to serve on special occasions.
Salad with radicchio and Roquefort
Between blue cheeses, Roquefort is certainly one of the most pungent in terms of taste. For this, thesalad with radicchio and Roquefort it is perfect if you love intense and persistent flavours.

#Winter #salads #recipes