Zucchini pancakes in a pan recipe with photos step by step and video
Step 1: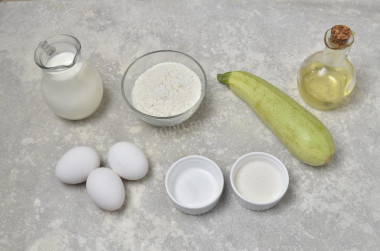 How to make zucchini pancakes in a pan? Prepare food. Any zucchini will do, both young and mature. Milk – any fat content. Flour may need more or less than the specified amount. Everything will depend on the juiciness of the zucchini. It is better if all products are at room temperature, then the dough will knead faster and better.
Step 2: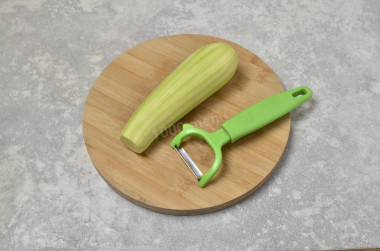 Wash the zucchini and remove the skin. I have a young fruit, but I still cleaned it to make the pancakes more tender. If you have a large and mature zucchini, then cut it and remove the seeds.
Step 3: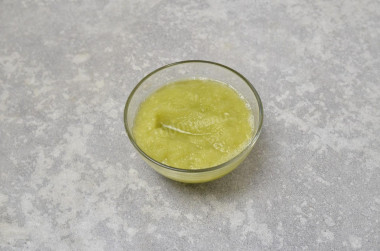 Grate the pulp of the zucchini on the smallest grater, the one that grinds almost into a puree. You can also grind it in a blender, submersible or stationary. But on a grater I like it more. Measure out a glass of the resulting puree.
Step 4: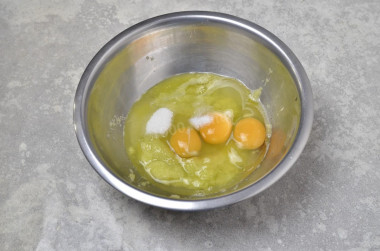 Put it in a bowl, beat in the eggs there. Be sure to wash your eggs before use, as even seemingly clean shells can harbor harmful bacteria. It is best to use food grade detergents and a brush. Pour in sugar and salt. You can change their number to your liking. These proportions seemed to me very successful.
Step 5: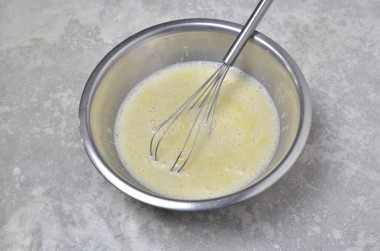 Mix the mass with a whisk. Pour milk and two tablespoons of odorless vegetable oil into it – it will prevent pancakes from sticking when frying. Mix everything again.
Step 6: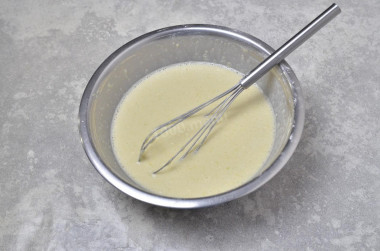 Sift flour into the liquid mass. Knead the dough, achieving a homogeneous consistency without lumps. You can use a mixer, a hand whisk was enough for me. The dough should become like a standard, on thin pancakes, similar to liquid kefir. If the dough seems too liquid, add a little more flour. If too thick, dilute it with milk. Leave the dough to stand for 15 minutes – it will become homogeneous and will not stick to the pan.
Step 7: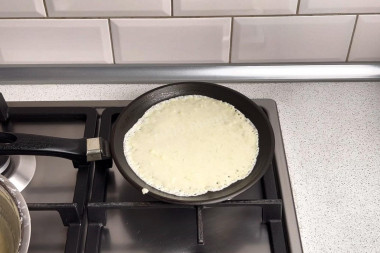 Heat a frying pan over high heat, it is better if it is pancake – with a thick bottom and non-stick coating. Lubricate it with vegetable oil. Pour half a ladle of dough, spread it in a circular motion over the entire bottom. If your dough is the right consistency, then it will take quite a bit, and the pancake will turn out thin.
Step 8: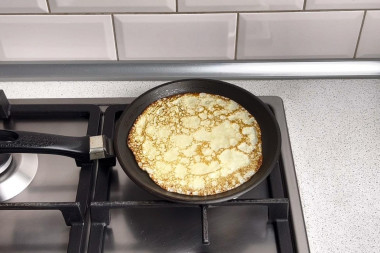 Fry the pancake until golden brown on one side, then flip over to the other side. Adjust the heat so that the pancake is fried for about a minute, but does not burn. Remove the finished pancake from the pan. Pour out the next batch. It is no longer necessary to lubricate the pan – the oil contained in the dough will begin to work. Overcook all the pancakes in this way. I got 11 pancakes with a diameter of 18cm.
Step 9: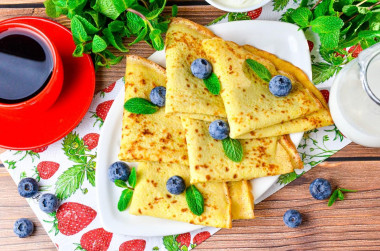 Serve zucchini pancakes in milk with sour cream. Enjoy your meal!
#Zucchini #pancakes #pan #recipe #photos #step #step #video