Zucchini salad for the winter without sterilization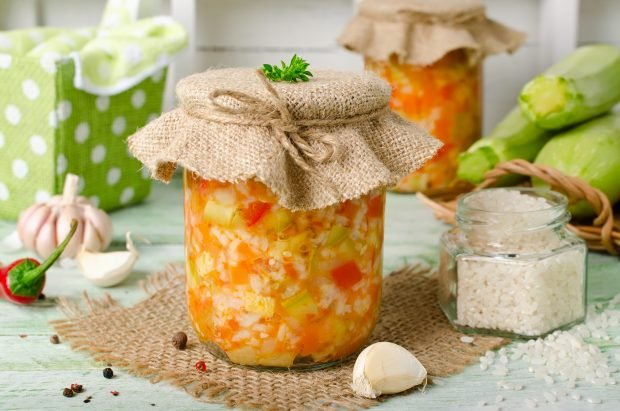 vkuslandia, stock.adobe.com
Zucchini salad for the winter is a multifunctional preparation. It can be served directly as a salad or used as a dressing for first courses. In any case, the salad turns out to be tasty, satisfying and healthy due to the large number of vegetables.
Step by step cooking recipe
Rinse rice and boil until half cooked.
Peel the onion, cut into cubes and fry in hot vegetable oil until transparent.
Add the grated carrots to the onion in the pan, mix and fry the vegetables for another 10 minutes.
Peel the Bulgarian pepper from seeds and stalks, cut into cubes and send to onions and carrots. Stir and simmer for 10 minutes.
Rinse the tomatoes, cut into small slices and place in a saucepan for cooking.
Add the fried vegetables, salt and sugar to the tomatoes. Simmer the vegetables over low heat until the tomatoes release their juices.
Clean the zucchini from the skin and seeds, cut into cubes. Send to a pot with boiling vegetables and simmer everything together, stirring, for 15 minutes.
A couple of minutes before cooking, add rice, chopped garlic and vinegar. Mix well.
Pack the boiling salad in pre-sterilized jars, roll up, turn upside down, wrap and cool. Store the workpiece in a cool, dark place.
#Zucchini #salad #winter #sterilization